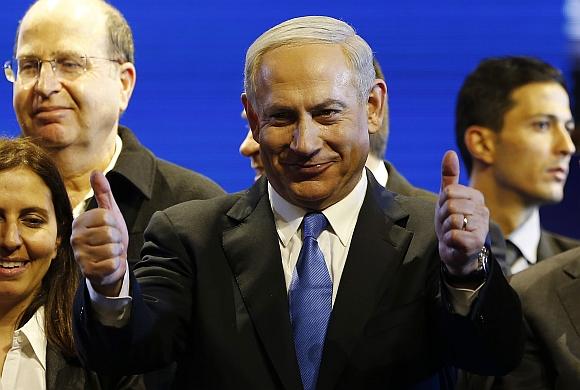 Prime Minister Benjamin Netanyahu on Sunday said Israel was prepared for "every possible scenario" in Syria after the United States delayed a military strike in a surprise move that prompted some Israelis to question their main ally's resolve on Iran.
"Israel is calm and self-assured. Israeli citizens know very well that we are prepared for any possible scenario," Netanyahu told his cabinet. "Israeli citizens must also know that our enemies have very good reasons not to test our strength -- they know why," he said at the start of the weekly meeting on Sunday.
US President Barack Obama has promised to punish the Syrian President Bashar al-Assad's regime over its alleged use of chemical weapons, but in a surprise move on Sunday he announced that he would first seek congressional approval, effectively pushing any military action back until at least September 9, when US lawmakers return from their summer recess.
The move irked some Israelis who see in the Syria showdown a test of Washington's ability to stop Iran from pursuing itsnuclear ambitions through military force if diplomatic alternatives fail.
Army Radio, a major Israeli broadcaster, quoted an unnamed government official in far less elliptical terms. "If Obama is hesitating on the matter of Syria, then clearly on the question of attacking Iran -- a move that is expected to be far more complicated -- Obama will hesitate much more, and thus the chances Israel will have to act alone have increased."
Israel has said it does not want to intervene in Syria and the war in its neighbouring country is their internal matter but made large scale preparations. It called strategic reservists to duty to deal with a possible attack on its territory in retaliation to possible Western military action in Syria.The Jewish state has maintained a studied silence over Obama's decision to refer the Syrian situation to the Congress.