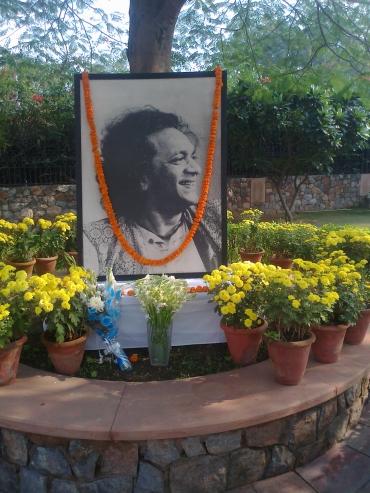 It was an immensely sad day for students of Ravi Shankar Institute of Music and Performing Arts in Delhi.
Their guru and mentor -- sitar maestro Pandit Ravi Shankar -- was no more.
The students of the institute had been eagerly waiting for his forthcoming visit to India.
Kaushik Kumar, a key official, had been interacting with Panditji to discuss the many important decisions concerning the institute.
"He wanted to ensure that music reached the right kind of people and there was no commercialisation of music," Kumar told rediff.com.
Psrimal Cadaphal proudly recalls his 25-year-old association with Panditji and how he learnt how to play the sitar under the watchful eyes of Ravi Shankar.
"He put Indian music on the international map. He was a remarkable person who rarely lost his temper. There were times he did lose his temper if someone played badly, but quickly made up for it by apologising," Cadaphal said.
Image: At the Ravi Shankar Institute of Music and Performing Arts