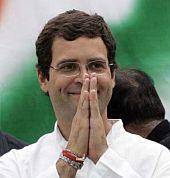 Congress leader Rahul Gandhi on Thursday met President Pranab Mukherjee in the midst of a raging speculation over a reshuffle of the Union Cabinet, which now appears to be on the cards only late this month or early next month.
There was no official word from Rashtrapati Bhavan about the 30-minute-long meeting and Gandhi's camp termed it as a "routine meeting".
Gandhi's meeting with the President caps a round of meetings Prime Minister Manmohan Singh and Congress President Sonia Gandhi with Mukherjee. The young Congress leader had himself met the prime minister on Wednesday.

The high-level confabulations have lent a greater edge to speculation that Gandhi himself could be in for playing a larger role. But whether it would be in the government or in the Congress party still remains a matter of conjecture and both the possibilities are not being ruled out.
With the Congress leadership said to be still working on the nature of changes in the council of ministers, the earlier possibility that a reshuffle on Friday now appears to be ruled out.
The President is away from the national capital from October 20 till October 23 when he will be in his home in Miriti in West Bengal for Durga puja festivities.

Meanwhile, Union Home Minister Sushilkumar Shinde also met the President and briefed him about security-related issues in the country.
Shinde had recently undertaken a three-day tour of Jammu and Kashmir during which he had met top state government and security functionaries.