Thirty-seven more persons perished in flood-hit Bihar, where over 1.46 crore people are still affected, while the situation in Uttar Pradesh remained alarming with 10 more deaths reported on Tuesday.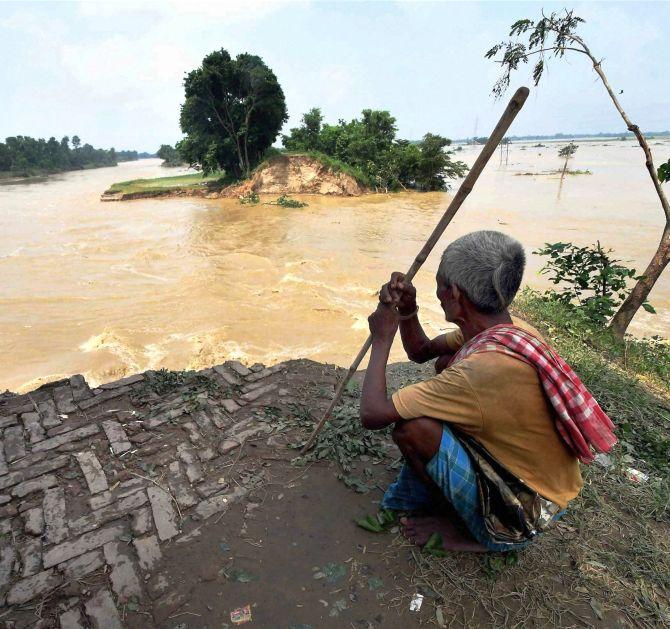 IMAGE: An elderly man sits on a washed away road at flood-hit Runni Saidpur in Sitamarhi district in Bihar. Photograph: PTI Photo
The toll in Bihar rose to 341 and touched 82 in Uttar Pradesh.
However, the flood situation eased in Assam and northern districts of West Bengal with water receding and no fresh deaths being reported in both the states.
The floods in Bihar has affected 18 districts of the state with around 7.61 lakh people shifted to safer areas. The toll stood at 304 till Monday with 1.38 crore people battling the deluge.
Prime Minister Narendra Modi would make an aerial survey of flood-affected districts of state on August 26, Deputy Chief Minister Sushil Kumar Modi said.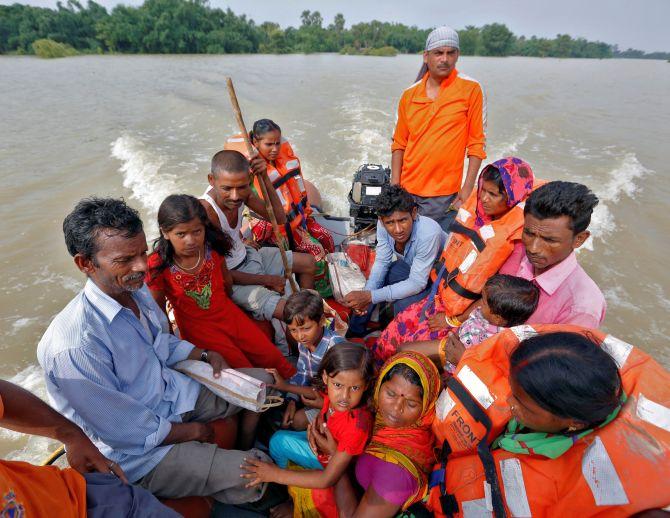 IMAGE: People wait to be rescued from a flooded village in Bihar. Photograph:

Cathal McNaughton/Reuters
According to a road construction department a total 203 state highways and other roads under it were damaged in flood waters in different places out of which 95 per cent have been repaired and made motorable.
Araria district accounted for 75 deaths alone, followed by Sitamarhi and West Champaran (36 each), Katihar (26), Kisanganj (23), Madhubani (23), East Champaran, Darbhanga and Madhepura (19 each), Supual (15), Gopalganj (14), Purnea (9) Muzaffarpur (7), Khagaria (6), Saran (6) and Saharsa (4), Sheohar (4), an official said.
Chief Minister Nitish Kumar reached Purnea by road from Patna after the helicopter in which he was to travel developed some snag. He inspected some relief camps, an official accompanying Kumar said.
Kumar would stay at Purnea on Tuesday and would go to Araria, Katihar and Kisanganj on Wednesday, the official said.
A total of 1,608 community kitchens were under operation in flood affected areas which served meals to 4.52 lakh people, a state disaster management department report said.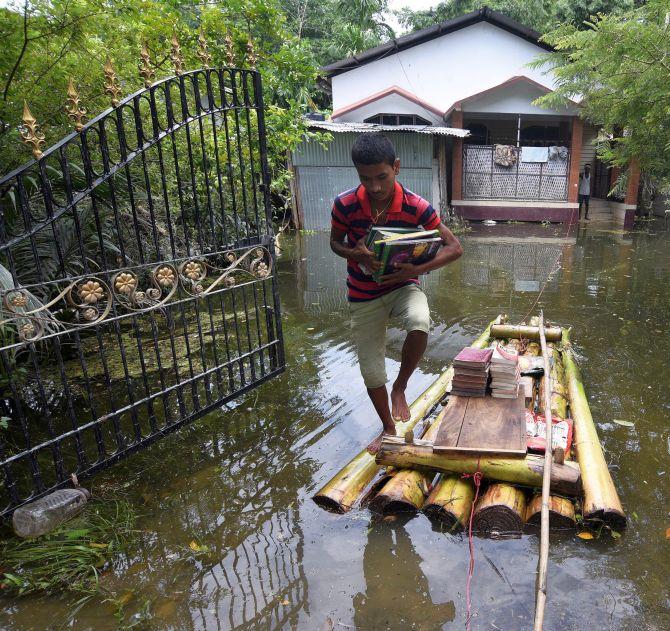 IMAGE: A boy uses a banana raft to transport his books in Jakhalabandha area in Nagaon district, in Assam. Photograph: Anuwar Hazarika/Reuters
Light to moderate rainfall occurred at one or two places in the state since Monday as the southwest monsoon is getting weak in the state, the MeT department has said.
Jhanjharpur received 4 cm rainfall, while Pusa and Madhwapur received 3 cm each and Thakurganj and Saulighat registered 2 cm of precipitation each.
Gaya recorded the highest maximum temperature of 35.2 degree Celsius, followed by 35 degree Celsius at Bhagalpur, 34.8 degree Celsius in Patna and 33 degree Celsius in
Purnea.
The flood situation in Uttar Pradesh remained alarming with reports of 10 more deaths, taking the toll to 82 in the current wave of deluge in the state.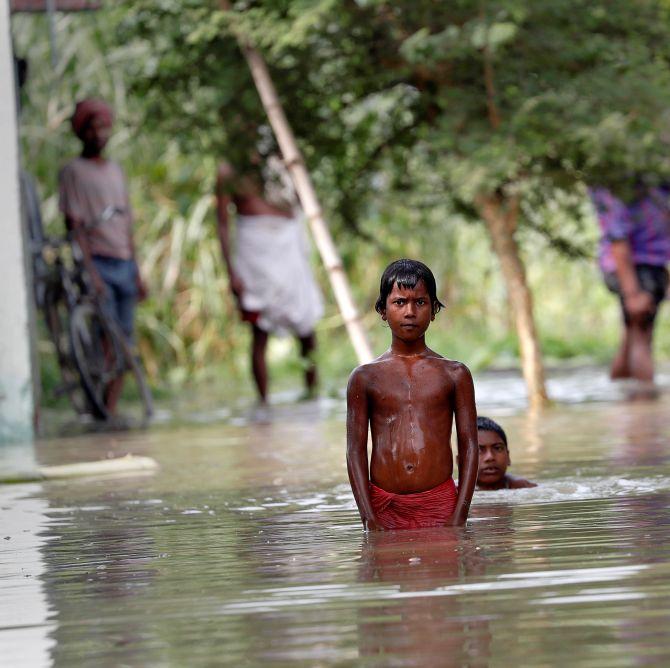 IMAGE: People wait to be rescued from a flood-hit area in Bihar. Photograph: Cathal McNaughton/Reuters
"The death toll in the floods has reached 82 in the state, where 2,855 villages in 25 districts are inundated affecting a population of over 22 lakh," the relief commissioner's office said here citing a flood report compiled till Monday.
It said that around 50,000 people have taken shelter in relief camps in the affected districts of eastern Uttar Pradesh where there was no let up in flood fury as raging
waters of the rivers emanating from Nepal caused havoc in vast swathes of land.
Army choppers, 26 companies of the National Disaster Response Force, and 30 companies of PAC (flood) jawans continued relief and rescue operations
round the clock in the severely hit areas of the flood-affected districts of the state.
However, the flood situation in Assam improved further with the water receding from human habitation and agricultural fields, giving relief to more people in the 12 affected districts of the state.
No fresh deaths due to the deluge were reported and the toll stood at 70, the Assam State Disaster Management Authority said.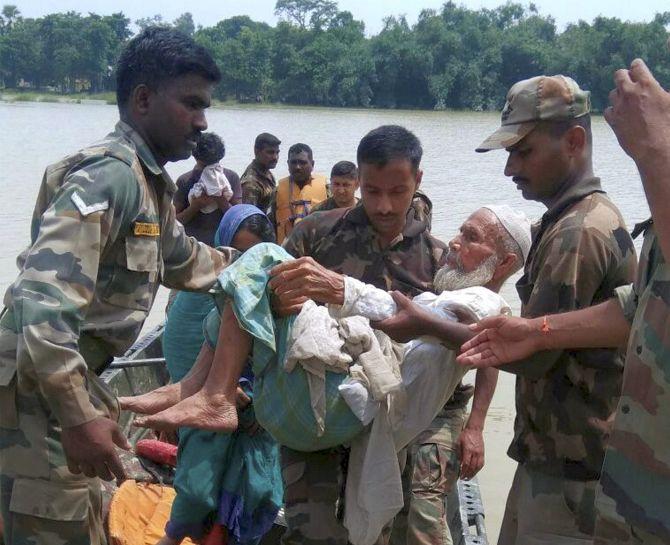 IMAGE: Jawans of the Indian Army rescue an elderly person from a flood-hit area in Bihar.
Photograph: PTI Photo
Altogether 11.02 lakh people, against Monday's 14.36 lakh people, were hit by the floods that have submerged 9,000 hectares of farm fields, it said.
The districts still affected include Dhemaji, Lakhimpur, Barpeta, Chirang, Kokrajhar, Dhubri, South Salmara, Goalpara, Morigaon, Nagaon, Golaghat and Majuli.
Water of the Brahmaputra river was still flowing above the danger mark at Nimatighat at Jorhat and Dhubri town, while Dhansiri river is flowing above the danger mark at Numaligarh in Golaghat and Kopili river at Dharamtul in Nagaon district.
Assam Chief Minister Sarbananda Sonowal has requested Union railway, transport and civil aviation ministers to see that train services were restored at the earliest and smooth movement of goods-laden trucks resumed to ease suffering of flood-affected people.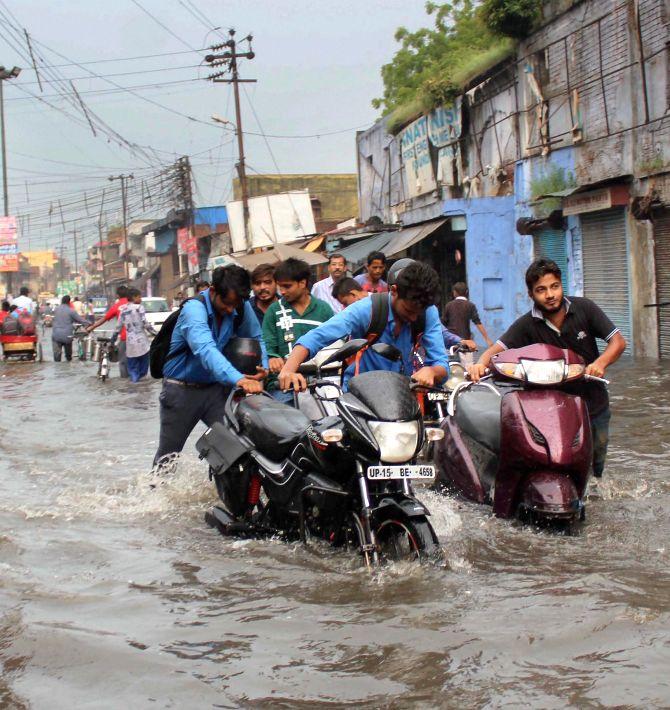 IMAGE: People make their way through flooded road following heavy downpour in Meerut.
Photograph: PTI Photo
In view of an alleged inordinate rise in air fares following disruption of train services, the chief minister also requested Union Minister of State for Civil Aviation Jayant Sinha to maintain "reasonable fare" of flights to the Northeast.
The situation in the six-flood hit districts of north Bengal too has improved a lot in the absence of major rainfall and people have started returning to their homes.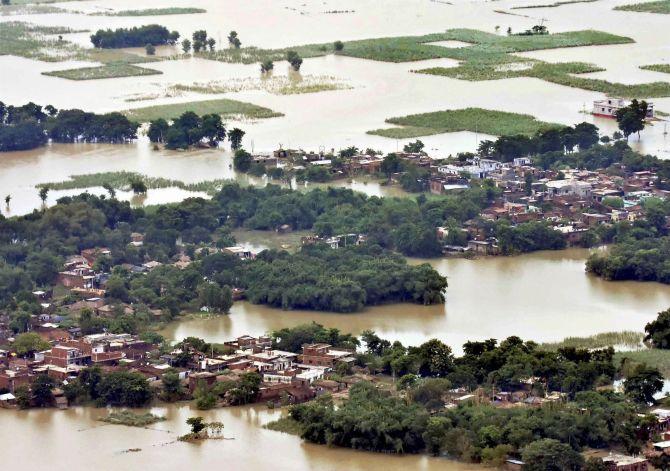 IMAGE: An aerial view of a flood-hit region of Motihari district in Bihar. Photograph: PTI Photo
There has been no report of any fresh death in the flood-hit six districts of Alipurduar, Jalpaiguri, Coochbehar, North Dinajpur, South Dinajpur and Malda, an official said at the West Bengal secretariat said.
Floods in West Bengal have claimed 152 lives so far and affected around 1.5 crore people.
"Water has started receding from the flood-hit areas in these districts and people are returning home. The situation is improving everyday," he said.
Trains, however, did not ply in the region as rail tracks remained inundated.