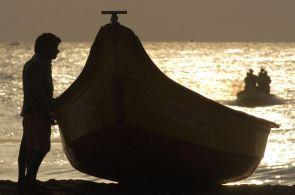 The Indian Deputy High Commissioner in Islamabad Gopal Baglay was summoned by the Pakistan foreign ministry on Monday to lodge a protest over the arrest of 13 Pakistani fishermen on March 15.
According to Pakistan's fishermen cooperative society, the fishermen along with their boat were well within Pakistan territorial waters, at Khajar Creek, when they were captured, a statement released by the Foreign Office said.
Pakistan has called for the immediate release of its fishermen and return of the boat.
The foreign office conveyed its concern over the incident, which was not only against international law and practices, but also is not in the spirit of the positive steps being taken by the governments of both countries to improve and normalise bilateral relations, it said.

Image: Representation picture