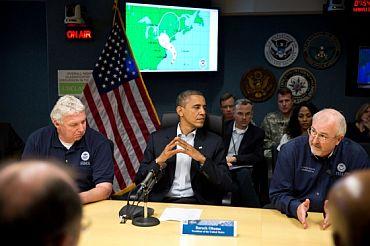 Hurricane Sandy, the monster of a storm threatening to hit America's East coast relegated the US election campaign to the backburner, as President Barack Obama rushed to the White House to personally review preparations and his rival Mitt Romney cancelled his campaign activities.
Being dubbed as a 'Frankenstorm', Hurricane Sandy, is packing dangerous wind speeds of over 90 miles per hour, threatening to cause a catastrophe of a lifetime as it heads to slam cities from New York to Washington.
With America 'under threat', Obama held a situation room meeting with his top advisors and officials on hurricane preparedness.
He also cancelled his election campaign event in Orlando, Florida on Monday morning and also called off his visit to Wisconsin scheduled for Tuesday.
White House Press Secretary, Jay Carney, said the President believes it "makes the most sense" for him to be in place at the White House.
Romney, his Republican challenger, also cancelled all his election meetings for Monday and Tuesday, as his offices in North Carolina, New Hampshire, Pennsylvania, and Virginia turned into collection centres for storm relief supplies.

His campaign also ceased fundraising emails to many of the states in the path of the storm.
"The storm overnight picked up speed and intensity. And a decision was made that in order to return to Washington to monitor and oversee the efforts to prepare for the storm and respond to it, we needed to leave earlier than planned," said Carney.
"The President has instructed his team to make sure that needed federal resources are in place to support state and local recovery efforts," he said.
Romney's Communications Director Gail Gitcho, said tonight's events with Romney in Wisconsin and his running mate Paul Ryan in Florida were being cancelled out of sensitivity for millions of Americans in the path of Hurricane Sandy.
"We are also canceling all events currently scheduled for both Governor Romney and Congressman Ryan on Tuesday. Governor Romney believes this is a time for the nation and its leaders to come together to focus on those Americans who are in harms way," Gitcho said.