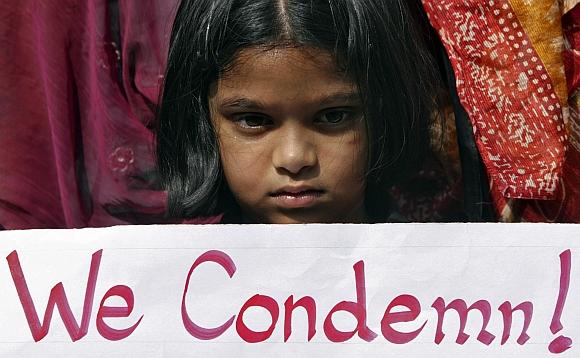 Residents of Phulkaha in Sitamarhi district in Bihar, are performing a 5-day 'yajna' for
the speedy recovery and well-being of the five-year-old girl, who was raped and tortured allegedly by her 22-year-old neighbour on April 15. The girl originally hails from this village.

"Hunderds of villagers are performing yajna in the village temple for her speedy recovery and well being," Surender Prasad, an elderly resident told rediff.com on Monday.
"We are aware that people across the country are protesting over the horrific incident and demanding justice for her. We are offering special prayers for her recovery, "Prasad added.

The villagers have demanded a speedy trial and capital punishment for the accused. They have also threatened to block the National Highway 77, connecting Hajipur to Sonbarsa on Bihar-Nepal border, if accused were not punished immediately.
The Delhi police arrested Manoj Kumar with the help of their counterparts, the prime accused from a village in Muzaffarpur district on Saturday, while he was hiding at his in-laws' house. Another accused Pradeep Kumar was arrested on Monday morning from Lakhisarai district.

The girl was raped on April 15 in a building in east Delhi's Gandhinagar where the victim and accused Manoj lived. She was rescued 40 hours later on April 17.