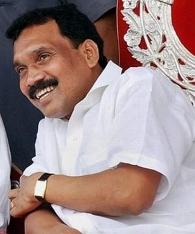 A day after securing bail in the fifth case of corruption, former Jharkhand chief minister Madhu Koda was on Wednesday rleased from jail after spending 44 months behind bars.
He was released after furnishing two bonds of Rs 1 lakh each and depositing his passport with the special CBI court in Ranchi as directed by the high court.
The Jharkhand high court had Tuesday granted him the bail in connection with rural electrification scam.
"I have faith in the judiciary, and I will establish my innocence," Koda told reporters after coming out from the Birsa Munda jail, where he was lodged in judicial custody from November 30, 2009.
He was accused of involvement in money laundering, illegal investments, rural electrification and other scams.