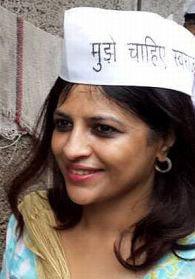 A 79-second video of Shazia Illmi posted on YouTube has left her Aam Aadmi Party red-faced.
In the video that has gone viral, the top AAP leader is seen interacting with Muslim leaders, urging them to "be communal".
"I'm saying Muslims are very secular. Muslims need to be communal. A Muslim isn't communal - doesn't vote for his own. Arvind Kejriwal is one of you. You are too ...don't be this secular. Look after your own homes (interests)," she said.

Read: 'Muslims should not try to be too secular'
AAP wasted little time in distancing itself from Illmi. On its Twitter account, the party clarified, "AAP does not believe in this kind of politics nor does it endorse it."
To a television channel, Illmi said her comments were a "play of words".

But are these clarifications sufficient? Should Illmi, a former journalist, get away without even an apology? Or should her party take strict action against her?

Tell us, dear readers, if AAP should sack or protect Illmi? Post your comments in the message board below.

Image: AAP leader Shazia Illmi

Special Coverage: Election 2014