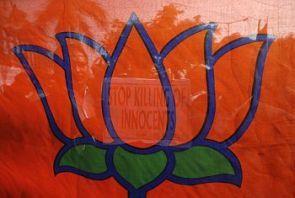 Bharatiya Janata Party Vice-President Mukhtar Abbas Naqvi on Monday claimed the National Democratic Alliance will win 300 plus seats in the upcoming Lok Sabha elections as the people want a stable alternative.
"There is an atmosphere of change in the country right from Kashmir to Kanyakumari with people ready to end corruption and misgovernance of Congress. The BJP plus NDA will win over 300 seats," BJP vice-president told reporters at the party office.
Naqvi also said that the party will win more than 50 seats (out of 80) in Uttar Pradesh.
He alleged that the Congress has realised its defeat, therefore, it is making desperate attempts to stop BJP's prime ministerial candidate Narendra Modi from coming to power at the Centre.
"Congress' popularity in the country is at its lowest ebb because of which even its declared candidates were leaving the party," he said in an apparent reference to Congress candidate from Bhind, Bhagirath Prasad joining BJP after getting the party ticket for LS polls.
BJP has appointed poll in-charges at over 4.73 lakh booths besides 'Palaks' (caretakers) at 480 Lok Sabha seats in the country.
On Congress' anti-Modi campaign, Naqvi said, that faced with imminent defeat, many senior Congress leaders including Vice President Rahul Gandhi and General Secretary Digvijay Singh are issuing statements in a manner which reflects "Talibani culture".
On the issue of division in the party over distribution of ticket in places like Varanasi and Lucknow, Naqvi said the entire party leadership is committed to make Modi the PM of the country.
Speaking about alliance with Raj Thackeray's MNS, he said, "Shiv Sena was, is and always be the ally of BJP."
Naqvi dubbed AAP as the "proxy of Congress" and said the party has already been exposed in Delhi and won't be able to do much in Lok Sabha polls.
Taking a swipe at Arvind Kejriwal, who will possibly contest against Modi, Naqvi said, "Kejriwal is an international leader. He can also contest from US when elections are held in that country."
He also alleged that AAP is getting money from US-based Ford Foundation.
Kejriwal has yet not vacated the official residence allotted to him as Delhi chief minister and contrary to the claims made by him, he has recently availed the facility of chartered plane, Naqvi said.
The AAP leader only considers himself as honest, while all others are dishonest in his eyes, he said.
He described AAP as a "group of unstable people" deceiving people under the garb of honesty.
Image used for representation purpose only