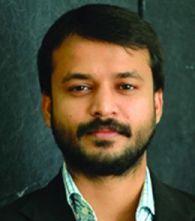 Aam Aadmi Party candidate and journalist Ashish Khetan on Wednesday filed his nomination papers from New Delhi Lok Sabha constituency.
Khetan, accompanied by a handful of party workers and few MLAs, submitted his nomination papers before the Returning officer at Jamnagar House in New Delhi.
"Our agenda is to change the face of Parliament when our elected MPs go there. The 49 days of AAP government changed the face of Delhi and we started a new sort of governance in Delhi. We will replicate this in the Lok Sabha," Khaitan told reporters after filing the nominations.
Khetan faces a three-cornered contest in the constituency as BJP has fielded Meenakshi Lekhi while Congress's Ajay Maken is the other main contender.
Targeting BJP's Prime Ministerial candidate Narendra Modi, Khetan said, "All claims by Modi are false. A conspiracy has been going on for the last one-and-half years and it is being played out by Modi, his campaign managers and a section of media."
"We have been exposing those claims and will continue to do so," he added.
Khetan said AAP is the only party in the country to remove corruption, unemployment, inflation and can fight against communalism.
"We got 28 seats in the Delhi Assembly elections and the party is assured of better performance this time around," he said.
Khetan is the founder of gulail.com which had done a sting operation on Gujarat Police tailing a woman allegedly at the behest of Narendra Modi.
Image: Aam Aadmi Party candidate Ashish Khetan