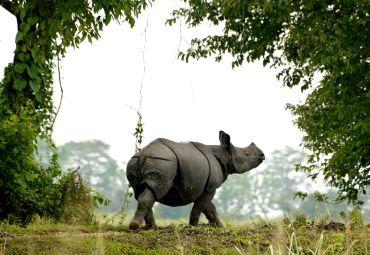 Union Minister for Environment and Forest Jayanthi Natarajan  has announced that the central government would provide an un-manned remote-controlled aircraft and an electronic surveillance system for protecting the rhino and other wildlife in Kaziranga National Park in Assam that recently witnessed a spurt in killing of flood-hit rhinos by poachers on the prowl.
Natarajan was on her maiden visit on Wednesday to the abode of one-horned rhinoceros, a UNESCO World Heritage Site, which suffered extensive damages recently to its infrastructure due to three waves of floods since June this year.
She also announced a grant of Rs 1 crore for taking immediate measures to repair the damages caused by three successive waves of floods in the rhino sanctuary known all over the globe for its diversity of faunal resources.
"We are happy with the announcements made by Natarajan. The un-manned remote-controlled aircraft and the electronic surveillance system, once installed will further strengthen the wildlife protection measures in the park that is known for the highest concentration of one-horned rhinos on the globe. It also has the highest density of endangered tigers," Assam Forest Minister Rakibul Hussain said.
He said the electronic surveillance system would include a series of towers with remote-controlled electronic cameras including night-vision and thermal imaging devices in and around the 850-sq km national park. It will help the wildlife personnel to have real-time images of any suspicious movement inside the park that in turn will further help in checking poaching of rhinos.
Natrajan also reviewed of the existing protection and anti-poaching measures in the national park with Assam Chief Minister Tarun Gogoi, state forest minister Hussain and senior officials of the state and central government.
Eleven Kaziranga rhinos have been killed by poachers in the current year while 28 rhinos have died during three waves of floods that hit the park since June this year. Kaziranga currently boasts of a treasure trove of more than 2,100 rhinos apart from nearly 100 endangered tigers and a large number of animals of various other species.
The Assam government submitted a memorandum to the Union minister seeking support to construct at least 50 more raised earthen highlands inside the park to help flood-hit animals to take shelter on those during the flood. The state government has also asked for assistance to set up 20 more anti-poaching camps in the outer fringes of Kaziranga.
Such anti-poaching camps in fringe areas have become a must in Kaziranga Park to prevent incidents of poaching of rhinos outside the park's core areas as recently happened during the flood.
The Assam government also sought Centre's assistance for replacing the existing wooden bridges inside Kaziranga with bailey bridges. Animals used to get killed when water hyacinth and other vegetation get stuck under wooden bridges during the flood.
Image: A one-horned rhinoceros walks in Kaziranga National Park in Assam
Photograph: Kamal Kishore/Reuters