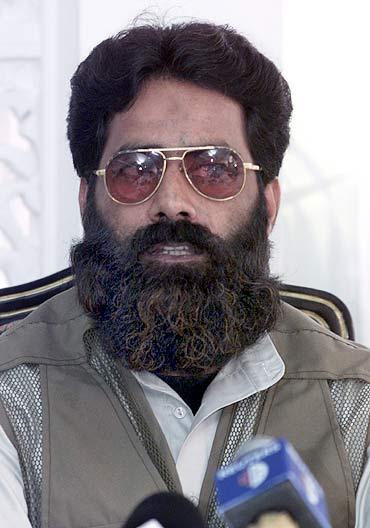 A report from the United States has termed Ilyas Kashmiri, the leader of a Pakistan-based terror group Harkat-ul-Jihad-Islami, as the next Osama bin Laden. Although the US has expressed concerns over Kashmiri for, Indian agencies say that he is a bigger threat to India.
Armed with the combating skills of the Al Qaeda's 313 brigade, a North Waziristan-based terrorist group, and the logistic and intelligence support of the HuJI, Kashmiri is turning out to be more dangerous to India than Zakiur Rehman Lakhvi, alleged mastermind of the Mumbai terror attacks, or Lashkar-e-Tayiba founder Hafiz Saeed, the IB said.
Kashmiri was a commander with the Pakistan Army, but turned rogue after he was asked to join the Jaish-e- Mohammed, which he strongly opposed. Pakistan's Inter-Services Intelligence and Kashmiri had a brief fallout following which Kashmiri, who had joined Al Qaeda's 313 brigade decided to fight the North Atlantic Treaty Organisation troops in Afghanistan.
However, over a period of time he cleared the air with the ISI and even trained gunmen, who carried out the 26/11 attacks in Mumbai.
Today, Kashmiri works in tandem with both the Al Qaeda and also Harkat-ul-Jihad-Islami. However, the problem for Indian agencies is not so much his association with the Al-Qaeda or its 313 brigade, but his sudden interest in India.
Kashmiri has survived the onslaught by the US in Afghanistan and he has returned with a greater resolve and this makes him a man to watch out for, IB sources said. After the 26/11 attack, Kashmiri felt a bit let down and often mentioned that his plot was hijacked by the LeT. However, this had not deterred him, but only increased his focus on India.
According to Indian, intelligence agencies, the one-eyed terrorist, is planning an attack on the country at a scale bigger than the 26/11. Kashmiri is said to have been in touch with LeT operative David Headley while the 26/11 operations were on. In fact, Headley had been giving a lot of information to Kashmiri regarding targets in Delhi and Pune during his visit to India post the Mumbai attacks.       
Kashmiri has been collecting all this data and in addition to this has been roping in several cadres from Kerala to carry out the operation, which he has termed as Ghazb-e-Hind meaning war on India. IB sources tell rediff.com that Kashmiri has roped in nearly 150 cadres from different parts of India and they continue to train with him for this massive operation.
Sources in the National Investigation Agency pointed out that during their interrogation with Headley in the US, he had spoken about Kashmiri at length and how he was planning to wage a full-fledged battle against India. "We have collected a lot of information on Kashmiri and have tipped off both the IB and the police officials in India to remain on alert," said NIA officials. 
The IB says that he first wanted to target October's Commonwealth Games in New Delhi and had even trained cadres near the Mangla dam near Islamabad, where the trained terrorists for the Mumbai attack. However, enhanced security at the CWG forced Kashmir to scrap the plan.

Image: The US has termed Ilyas Kashmiri as the next Osama bin Laden| Photograph: Mian Kursheed/Reuters