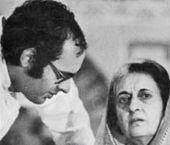 Late Indian Prime Minister Indira Gandhi's biggest mistake was over-exposing her son Sanjay Gandhi, a veteran journalist has said.
Speaking to rediff.com, former British Broadcasting Corporation correspondent Mark Tully said: "Her biggest mistake was over-exposing her son Sanjay Gandhi as crown prince. But his sudden death in an air crash sobered her."
At the time of his death, Sanjay was Indira's most important advisor. She was grooming him to head the Congress party and eventually succeed her in politics.
As his mother's political guide -- though he held no office nor had he been elected to power -- Sanjay helped enforce the Emergency (June 25, 1975 to January 18, 1977) and is blamed for the many excesses of her government during that dark period in Indian history.


Both Indira and Sanjay Gandhi lost the 1977 general election, the Congress party was routed, and the Janata Party came to power. Both mother and son were arrested, but the Janata Party government collapsed in July 1979.


In January 1980, the Congress party and Indira Gandhi returned to power. Sanjay won a seat in the Lok Sabha from Amethi, but before he could fulfill his mother's dreams for him, he was dead.
But that doesn't change Tully's views about the late prime minister's competence.

Indira was one of the most outstanding political personalities that India ever produced, he says.

Though he refuses to compare her with her father and late Prime Minister Jawaharlal Nehru, stating that the latter had his own strong points, the veteran journalist says: "Her biggest victory was the manner she in which she refused to crumble under the pressure that the Americans sought to build up on India by sending its 7th Fleet during the 1971 war."
"Indira made history by creating another nation called Bangladesh. This was her biggest victory," he adds.
However, Tully believes that Operation Bluestar -- ordered by Indira to flush out Sikh militants, including Jarnail Singh Bhindranwale, holed up inside the Golden Temple in Amristar -- could have been avoided.
"This became a thing she could not handle. Terror was unleashed and innocents were killed. She had to order the storming of the Golden Temple, which led to large-scale damage to the Akal Takht (seat of God). She could have avoided all that just by arresting Bhindranwale," Tully observes.
Five months after the incident, she was shot dead by her bodyguards with their service weapons.