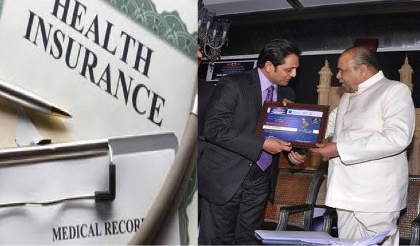 Recipient of 'India's   Most Admired Surgeon' award moots 'womb to tomb' insurance model to revolutionise India's healthcare sector, in a conversation with Sanjay Mehra
Dr Mukesh Hariawala, the Harvard-trained, internationally acclaimed Indian American heart surgeon and healthcare economist who was recently  honoured for scientific excellence with 'India's Most Admired Surgeon' award by Maharashtra Governor K Sankaranarayanan, has proposed an innovative insurance model that could revolutionise the fledgling rural healthcare system in India.
Speaking exclusively to ANI, Dr Hariawala suggested a 'womb to tomb' health insurance system that would ensure adequate healthcare to millions of Indians living in villages, who are today either not covered under any such insurance, nor can afford expensive medical treatment to battle their illnesses.
"During my MBA education in the US, one important fundamental learning I imbibed, was that for any business entity to survive regardless of industry, it must consistently remain profitable. Unfortunately, the health insurance sector in India is reeling on a downward slope due to a poorly structured initiation and flawed models of operation," he told ANI.
"Indians are also partly to be blamed for taking up an insurance policy often after 50 years of age when disease processes begin that need expensive corrective surgical interventions within the first five years of policy enrollment.
"Thus, with very little contribution towards one's own health, insurance companies are compelled to pay out large sums, thus making it unsustainable, often culminating in dispute with subscribers and even occasionally filing for bankruptcy. Every country, including India, needs a customised health insurance solution taking into consideration the nation's history, economic status, paying power of the people, population discipline and culture," he added.
Dr Hariawala emphasised that "for India to eventually qualify as a developing country, it must have a sound healthcare system which needs urgent remedial reform."
However, the current system cannot be revamped without major health insurance restructuring, he said, adding that his "novel concept of womb to tomb" or "cradle to grave" cashless system will be best suited for India which is at the infancy stage of offering health insurance to its 1.2 billion population where currently only less than 20 per cent of urban India has coverage."
Dr Hariawala offered constructive solutions to these deep-rooted problems for India's fractured healthcare system by saying "Every Indian, regardless of rural or urban birth, must be provided an insurance plan from day 1 which is carried on for the rest of one's life. The minimal affordable initial contribution with an acute spike on gainful employment with regression of premiums on retirement will work best for India. Thus a good portion of one's life premiums will be contributed by the employer. The rural population must be provided government subsidy without dilution of quality healthcare coverage.
"Epidemiologically, a healthy population is a more productive one with an increment of lifespan, with insurance companies taking strong educational initiatives on preventive care, reserving the therapeutic expensive surgical option approvals only as a last resort," he added.
Dr Hariawala emphasised on the role of government and said, "Induction of healthcare information technology solutions like 'Health Exchange' channels which is a marketplace for all stakeholders, will increase transparency of operative plans and lead to a lean and efficient healthcare system. This would not only be cost-effective but positively contribute to the GDP growth of the country by retention of valuable resources which can be better utilised for rural development. All new government policies must centrally focus on the expeditious urbanisation of rural India and its raised levels of education."
He concluded by adding, "If proven world class simulation models are demonstrated and adopted by the Indian health insurance sector, it is also likely that many overseas insurance giants could be attracted as investors in strategic partnership with local companies which could be a boom for the industry, national economy and augment large scale employment."
The Boston, US-based Dr Mukesh Hariawala, who is a prolific keynote speaker at major healthcare events worldwide, was also a key member of the cardiac surgical team of Dr John Wright that performed the first bypass operation on Prime Minister Dr Manmohan Singh at the Harley Street Clinic, London, in 1990.
Image: Dr Mukesh Hariawala receives the 'India's Most Admired Surgeon' award from Maharashtra Governor K Sankaranarayanan