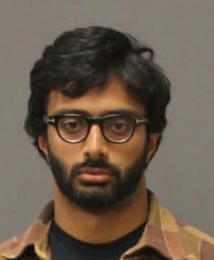 Manas Moole Reddy, a University of California, Irvine student was arrested November 18, for possessing a loaded firearm on campus. Reddy, 28, was charged with one felony count each of possessing a loaded firearm on a college campus, unlawful possession of a firearm, and possession of ammunition by a prohibited person.
If convicted, he faces a maximum sentence of four years in a state prison. Reddy has posted a $100,000 bail amount and was scheduled for a pre-trial hearing on December 2. The court also ordered him to stay away from UC Irvine campus property as a condition for his release. According to court papers, at approximately 3.10 pm, Reddy was seen carrying a shoulder bag across the front of his chest and clutching a firearm inside it with his left hand.
Jane Doe, a student, walked past the defendant and observed the firearm in his open bag and contacted the UCI police department. Cathy Lawhon, director, Media Relations and Community Outreach, UCI, told India Abroad that Reddy was a fifth-year Urban Studies major at the university.
"The good thing is we did a lot of safety training at the campus with students to be aware of their surroundings and reporting anything that seemed amiss," she said. "So it is very gratifying that the student made the report, trusted her instincts and called the police. It could have been much worse," she added.