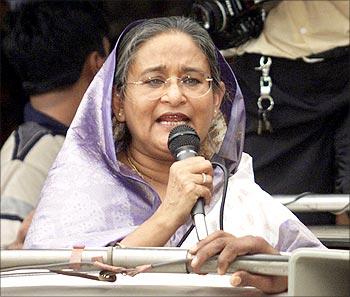 Bangladesh Premier Sheikh Hasina on Wednesday said she was hopeful that Prime Minister Narendra Modi will play his role in maintaining good relations with neighbours, notwithstanding his "own ideas".
"We will be able to maintain a good relationship with India....he (Modi) has his own ideas, now he has become the Indian prime minister and I hope that he, as the prime minister, would also play his role to maintain good relations with neighbours," she said in Tokyo on the fourth day of her Japan visit.
During the election campaign, Modi had threatened to deport Bangladeshi immigrants if the National Democratic Alliance came to power, saying they were being welcomed in West Bengal with a red carpet for vote bank politics. Hasina expressed her firm optimism in maintaining good relations with India and said that any problem could be solved with its neighbours, including India, through bilateral discussion.
"It's very natural that you may have differences about policy. But, if there is any problem, you could solve it through bilateral discussions," she said during her interaction with the media at the National Press Club.
Hasina made the remarks when a journalist asked whether there would be any obstacle to Bangladesh-India ties after Modi became the new prime minister, the state-run BSS news agency reported. Responding to the question, she cited the Ganges Water Sharing Treaty with India in her first tenure in 1997, overcoming the long-standing dispute, as well as signing of the Chittagong Hill Tracts Peace Accord ending a two-decade insurgency.
"Our foreign policy is very clear -- friendship to all and malice to none. Since we've formed the government, we've found good relationship with our neighbours," Hasina said. She said India has also a foreign policy and hoped that it would be followed. Hasina said in her three terms, she had worked with four different political parties that formed government in India and the latest Modi government is the fifth one.
Hasina was invited along with other South Asian Association for Regional Cooperation leaders for Modi's swearing-in ceremony but she was unable to attend due to her Japan visit and Bangladesh was represented by Parliament Speaker Shirin Sharmin Chaudhury.