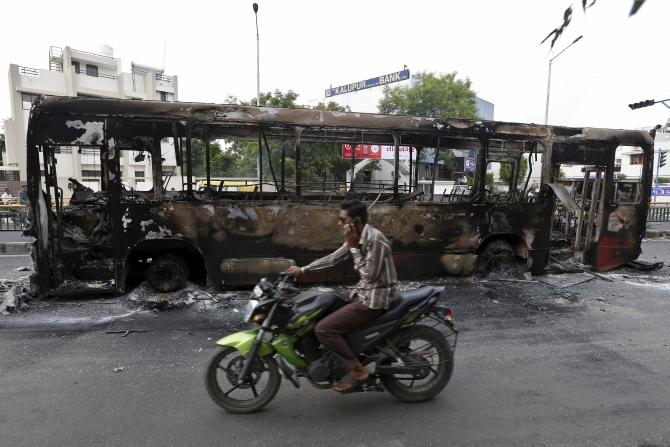 The Gujarat high court on Tuesday upheld the state government's decision to put a ban on mobile internet during the Patel quota agitation violence in August, as it rejected a PIL seeking that the move be declared as illegal.
A two-judge bench of acting Chief Justice Jayant Patel and Justice N V Anjaria rejecting the petition said that the decision of the state government was "just and proper."
The HC order came after the state government's reply in which it said the mobile internet was banned to stop rumours being spread.
The Gujarat government had banned mobile internet services from August 25 night for almost a week as the Patel quota stir turned violent.
Ahmedabad resident Gaurav Vyas had in the PIL demanded the court's intervention to declare the ban on mobile internet as illegal and to fix responsibility of the people concerned.
Vyas had demanded that the state government should not put any such ban in the future as it is against the constitutional provisions of fundamental rights.
When the administration had invoked section 144 of CrPC preventing gathering of more than four people in view of the law and order situation, there was no such need to put a ban on mobile internet, the PIL had said.
It had said the government put people to great difficulty because essential banking services were not available due to ban on mobile internet.
In reply to the petition, Government Pleader Manisha Luvkumar had earlier said that the decision to impose the ban on mobile internet was taken to curb rumours that started circulating after detention of Patel agitation leader Hardik Patel.
Luvkumar had said the violence started after Hardik l was moved out of GMDC ground on August 25, where he sat on dharna.
The pleader had said that nine apps were created by some persons to circulate messages to encourage the Patel community to join the rally venue at GMDC ground in the city.
She had said some of the messages that were circulated after Hardik's detention were provocative in nature.
Serious rumours, false stories and apprehensions were spread and as the state had got IB inputs that such messages can jeopardise law and order situation, a ban was put on mobile internet, she had said.
After hearing the submissions of both the sides, the high court rejected the plea.
Image: A man rides a motorcycle past the wreckage of a bus that was burnt in the clashes in Ahmedabad.