Children Development Khazana is a unit run by and for street children to put aside their daily earnings safely. Priyanka reports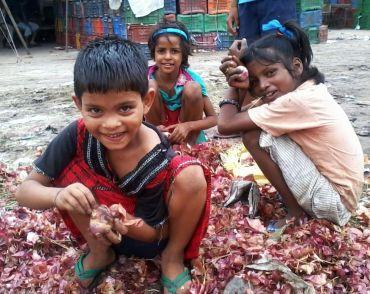 Sunil, 13, picks up leftover vegetables at the Okhala Mandi in Delhi, sorts them and then sells them. Yesterday was a good day for him; he earned 350 rupees. Sunil put his earnings in an account at Children Development Khazana -- a bank of sorts -- run by and for street children.
Children Development Khazana is a project initiated by a Delhi-based child rights NGO, Butterflies, and for almost decade now has held accounts for street children in the capital.
It was at one of the monthly 'Bal Sabhas' at one of the seventeen contact points in the city that the group discovered that street children were apprehensive about keeping money with them. "They feared others might take it away forcefully and so they felt it was better to spend it," explains Shashidhar Sabnavis, the project manager.
This led to the opening of Children Development Khazana, a place where street children could put away their money safely. It is a unit that is run by children, where the head and the staff are all chosen by children in a 'Bal Sabha'. Sabnavis insists it is not a bank, but a 'khazana' for the street children. "If they have some money saved, they can plan something for the future," he says.
Faisal, 11, currently has Rs 25 saved in the 'khazana'. He withdrew a hefty sum last month as he had visited his native village in Uttar Pradesh. His younger brother, nine-year-old Arbaas, has Rs 10 saved in the 'khazana'.
Abhishek, 13, now has Rs 206 in his khazana account; he withdrew last month on 'raksha bandhan' to give away part of his savings to his two elder sisters. "I took out money last week, but I will put more money in my account next month," he says.
Most of the street children live with their families in a slum called Gandhi camp near the Mandi.
Mithun, 11, too lives there, and has managed to save Rs 350 in his khazana. "I made 150 rupees yesterday. I give some money home, but I am also able to put some here (at khazana)," he says.
Many of them can be seen carrying polythene bags, picking up vegetables that fell off carrier trucks, or are lying strewn all over the vegetable and fruit mandi. Mithun picks onions.
Another 11-year-old, Nikhil, has managed to save Rs 500, while 14-year-old Sunny has Rs 70 in the khazana.
In all 33 street children have money saved in the Okhala Mandi khazana. The last count of total savings was Rs 9,000 last month. Apart from the 'khazana' at the Okhala Mandi, there are others at Chandini Chowk and areas in Central, Old Delhi and South Delhi.
The 'khazana' had only a few takers early on, but there are now about 1,500 accounts. A total amount of Rs 2 lakh is being saved by street children at different branches in the capital. The NGO has put the money in a nationalised bank, and withdraws whenever a kid applies for withdrawal. They are thus also able to receive interest.