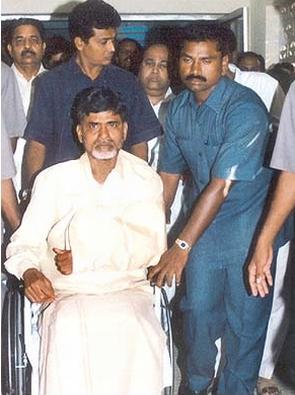 Fasting Telugu Desam Party chief N Chandrababu Naidu was on Saturday forcibly administered intravenous fluids, after his health deteriorated on the sixth day of the indefinite fast against the bifurcation of Andhra Pradesh.
"We were forced to give intravenous drip around 3 pm to avoid further deterioration of his health. He is being administered 10-15 drops per minute, which may gradually increase after two hours to improve hydration," said Dr H K Kar, medical superintendent of RML Hospital in Delhi.
A team of doctors initially tried to persuade Naidu to take intravenous drips, but he refused, Kar added.
The medical superintendent said the TDP leader's health condition was clinically stable, though blood parameters showed deterioration. Asked whether he has broken his fast, Kar said Naidu had not taken anything orally, except water.
"Intravenously, we have given injections. We hope he breaks his fast soon," he added.
To a query, Kar replied that Naidu should be treated in hospital today.
"He must be in the hospital at least for today. Let us see," Kar said.
Earlier, the medical superintendent said Naidu's liver, kidney and heart were functioning abnormally.
On the fifth day of his hunger strike against the creation of Telangana, the TDP chief was forcibly evicted by police from the Andhra Pradesh Bhavan in Delhi amid high drama and chaos. He was admitted to RML Hospital at 4.40 pm on Friday.
Naidu has been on a hunger strike on the premises since Monday to protest against the bifurcation of Andhra Pradesh and demand "justice for all".
A team of doctors comprising a cardiologist, two physicians and four resident doctors are monitoring the condition of Naidu at RML Hospital.