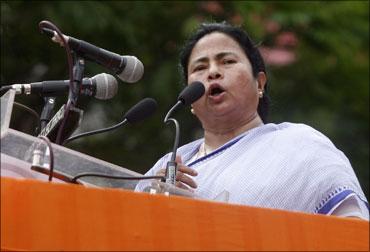 Congress on Tuesday reached out to Trinamool Congress chief Mamata Banerjee describing her as a valued colleague who had grown up in the "nursery of Congress" and would not do anything to create instability in the country.
"She is a valued colleague. She made a valuable contribution to the alliance and she has a long history of relationships and friendships with Congress party because she grew up in the nursery of Congress and she has been one of the more admired leaders in Congress party before she found her own party, Trinamool Congress," Union Law Minister Salman Khurshid said.
He was responding to queries about the course of action the Trinamool chief may take on the issues of diesel price hike and the cabinet decision to allow FDI in multi brand retail.
Asked how Congress is trying to reach out to Banerjee, he said "I can't put my finger on and say that this is the particular method we would have used or we are using and who in particular is attempting or trying to persuade her".
The law minister said though he did not want to forecast anything, he believed Banerjee would take no step that would create instability.
"I am sure what she has been saying repeatedly that she does not want to contribute to any kind of instability, I am sure she actually means it and she will find a way of expressing it," he said.
Khurshid also defended the government's decision to allow more FDI saying changes had to be made as per circumstances.
"Political parties all over the world transform themselves, change themselves to address the need of the circumstances around them. Why should Indian political parties not do the same," he said.