With 14 more deaths, the toll in the Bihar flood rose to 149 on Friday even as the swollen Ganga river has started receding.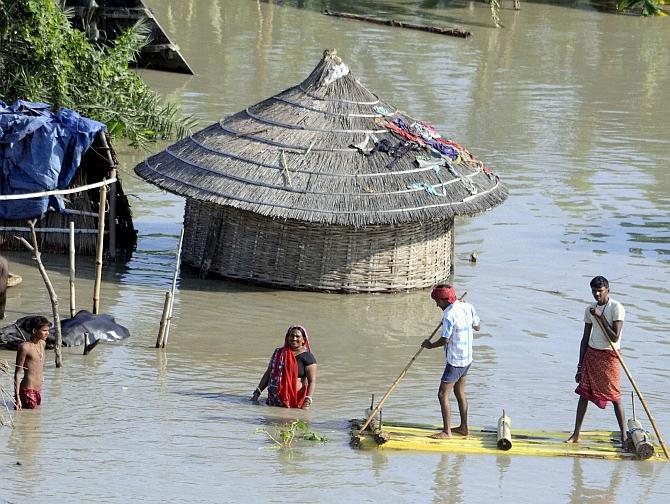 Bihar Chief Minister Nitish Kumar made an aerial survey of several flood affected districts during the day.
A release by the Disaster Management Department said Bhojpur accounted for 13 deaths, the maximum in any Bihar district
The flood has been caused by a spate in Ganga, Sone, Punpun, Burhi Gandak, Ghaghra, Kosi and other rivers and has affected 32.51 lakh people in 2,018 villages under 553 panchayats of 74 blocks in the state, it said.
Ganga, though showing a receding trend, is flowing above the danger mark at seven places -- Digha Ghat, Gandhi Ghat, Hathidah in Patna, Bhagalpur and Kahalgaon in Bhagalpur district, besides in Munger and Buxar districts.
The receding trend has been witnessed at Gandhi Ghat, Digha Ghat and Hathidah in Patna.
A total 4.16 lakh people have been evacuated so far from the 12 flood-affected districts of Buxar, Bhojpur, Patna, Vaishali, Saran, Begusarai, Samastipur, Lakhisarai, Khagaria, Munger, Bhagalpur and Katihar, the release said.
The government is plying 2,516 boats for evacuation and national and state disaster response forces have already been deployed in the affected districts.
Five hundred and eighteen relief camps are being run in the flood-hit areas and are providing shelter to 2.05 lakh people, who are being provided medical services by 270 teams.
Arrangements have been made for providing food and other items and the government has so far distributed 6,105 quintal of flattened rice, 1,072 quintal jaggery, 111 quintals of sattu, 82,822 matchsticks packets, 48,629 polythene sheets and 2,43,959 dry food packets, the release said.
Besides, 108 camps were being run only for animals, the release said, adding, 108 cattle have been killed in the floods, it added.
Kumar made an aerial survey of Bhagalpur, Katihar, Munger, Khagaria, Begusarai, Samastipur and Vaishali districts. He was accompanied by Water Resources Minister Rajiv Ranjan Singh alias Lalan Singh, Chief Secretary Anjani Kumar Singh and his Principal Secretary Chanchal Kumar.
He also held a review meeting at Bhagalpur airport along with the principal secretary to the water resources department, Bhagalpur divisional commissioner, district magistrate superintendent of police.
He directed them to intensify relief work and assess the damage caused by floods.
While inspecting the various relief camps in Patna district, Kumar announced that Rs 15,000 and Rs 10,000 would be given to each girl and boy child respectively who are born in relief camps or hospitals after their mothers were evacuated from the flood affected areas.
The disaster management department release said every registered person in the camps would be given bath soaps and soaps for cleaning clothes, combs, hair oil, mirrors and sanitary napkins for women.
Besides, people in relief camps would be given clothes and served food in stainless steel utensils which they can take home when the flood water subsides.
The funds for utensils, clothes and soaps, comb, hair oil and sanitary napkins would be made available from the Chief Minister's Relief Fund, the release said.
IMAGE: People wade on a banana raft in flood hit area of Hajipur, Bihar. Photograph: PTI Photo