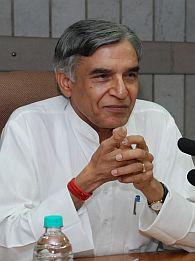 With his nephew landing him in a political soup, beleaguered Railway Minister Pawan Kumar Bansal on Monday got an unusual sobriquet -- "mamu" -- in the Rajya Sabha.
The Minister was repeatedly addressed as mamu by Parshottam Rupala (BJP), a close aide of Gujarat Chief Minister Narendra Modi, while his party members created uproar in the Well seeking his ouster along with that of the Prime Minister.
Without naming Bansal, Rupala repeated "mamu" numerous times amid sloganeering by his party colleagues.
"O mama… desh ko mamu mat banao … Mama isteefa do (Uncle, Don't befool the nation...Please resign uncle)," were Rupala's terse comments on Bansal, sending many in the visitors' galleries into laughter.


Rupala's comments also surprised members of a visiting Parliamentary delegation from Maldives in the special box.

Rupala kept shouting "Mamu… mamu" and even gestured at Deputy Speaker P J Kurien, who finally adjourned the House.

Incidentally, Bansal is the maternal uncle (mama) of Vijay Singla who was caught by the CBI while allegedly accepting a Rs 90-lakh bribe from a top Railway Board official, both of whom have been arrested by the investigating agency.