'For now, the AAP is the conversation,' Lord Meghnad Desai tells Rediff.com's Sanchari Bhattacharya. 'Everyone is talking about the 'Delhi model'. They have made so much difference. They have changed politics.'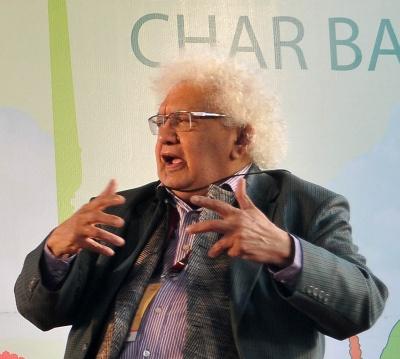 The clamour over the United Progressive Alliance government's corruption scandals has overshadowed the positive effects of its welfare measures, believes Lord Meghnad Desai, Professor Emeritus at the London School of Economics.
In a conversation with Rediff.com's Sanchari Bhattacharya, he outlines the reasons behind the UPA losing its way in its second term and his wish-list for the government that takes over at the Centre later this year.
What, according to you, were the mistakes made by the United Progressive Alliance in its second term?
Firstly, though they had the requisite numbers to do so, there was an enormous opposition towards pursuing reforms largely due to the internal weaknesses of the Congress.
Congress veterans didn't cooperate with (Prime Minister) Manmohan Singh during his second term.
The party was waiting for (Congress Vice-President) Rahul Gandhi to take over, they thought Dr Singh will step down in a couple of years.
Though (Congress President) Sonia Gandhi stayed with Dr Singh, he didn't have the kind of support he had enjoyed during the first term of the UPA.
Sonia's health issues also affected the working of UPA2. Even the PM has undergone multiple bypasses. So here you had two people who were both good, but had health problems. The machinery somehow didn't work properly for UPA 2.
During the UPA's first term, even if a decision was approved by the PM and his Cabinet, it had to be vetted by Sonia Gandhi. But because of her (failing) health, that did not happen this time.
Sonia Gandhi is no longer leading from the front.
The large-scale protests led by Anna Hazare threw an already malfunctioning system into total paralysis.
The government then went the subsidy route. But because of large-scale corruption, that did not turn out to be politically advantageous for them.
What about the government's inability to tackle inflation?
I have a feeling -- and I am the only one who says so -- that inflation was deliberately used to redistribute resources, to lessen the divide between rural and urban India.
The Congress's welfare policies are aimed at lessening the divide between rural and urban India, not at reducing the gap between the rich and the poor. But not all urban areas are rich and not all rural areas are poor.
But these measures have all been lost in the debate over corruption. The Congress should have taken these measures over two years ago.
Had they done so, before the 2G scam and other corruption cases, they would have been laughing now.
The UPA government is perceived as a corrupt one, not one which is progressive and redistributive.
Rahul Gandhi went to Niyamgiri in Odisha and told the local tribals that he is one of their soldiers and the bauxite mining project in the region will be stopped. Many mining projects across India were stopped after that.
Now he goes to FICCI (Federation of Indian Chambers of Commerce and Industry) and talks about developing business in India.
Then (Environment Minister) Jayanti Natarajan gets fired and her successor (M Veerappa Moily) reportedly clears 70 files in a hurry.
You can't run the government on such blanket generalisations. Such measures are not going to show results in April (during the Lok Sabha election).
If you want to take a decision on the feasibility of a project, on its impact on the environment, you have to do a proper study and analyse the issue.
Rahul Gandhi can't keep changing his mind!
Do you think the various welfare measures undertaken by the UPA, like the flagship National Rural Employment Guarantee Act, have actually worked for those they were meant for? There are widespread reports of misuse.
NREGA is not as bad as the PDS (Public Distribution System) as far as corruption goes. As much as 40 per cent of the resources meant for PDS are wasted.
The rate of wastage in the NREGA is nowhere as bad as that in PDS. And welfare measures can always be rationalised.
But the redistribution of resources is not accompanied by clean governance.
What about Aam Aadmi Party leader Arvind Kejriwal's populist policies? They have been criticised by both the Bharatiya Janata Party and the Congress for being useful only for short term gains.
Of course, the BJP and the Congress are going to criticise AAP's policies. Do they have a choice? They are political rivals (of the AAP).
And Kejriwal has been in power for some 21 days! He made promises about water and power (tariffs) and he has kept them.
It is too early to speak about whether the AAP's economic policies will be successful in the long run.
But for now, the AAP is the conversation. Everyone is talking about the 'Delhi model'. They have made so much difference. They have changed politics. They are the new game in town.
What do you think about Rahul Gandhi's speech at FICCI? He talked about making India a manufacturing hub...
The Congress has been talking about that for ages. But you have to change the labour laws first. Hiring and firing people is so expensive in India. That is why people here only hire on contract basis.
The Congress is in denial (about the policy changes they need to make).
What will be your wish-list for the new government that will take over this year?
They should change labour laws, promise zero deficit and do something about inflation.
What is your opinion about Chief Minister Narendra Modi's development model? His detractors claim that his development feats have only been possible due to the autocratic nature of his rule.
Tell me, who among (Tamil Nadu Chief Minister J) Jayalalithaa, (West Bengal Chief Minister) Mamata Banerjee, (Bihar Chief Minister) Nitish Kumar is not autocratic? Most chief ministers are autocratic.
Mamata is worse that Modi. She does exactly what she wants to.
Everyone focuses on Modi all the time, all the attention is on him.
Indira Gandhi was like that (autocratic).
Sonia Gandhi is also a very authoritarian person, but no one ever talks about that.
Image: Lord Meghnad Desai. Photograph: Chandra Mohan Aloria