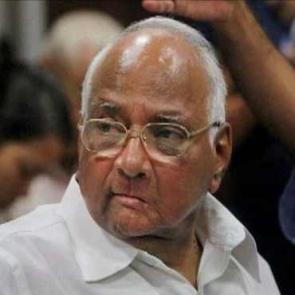 Union Agriculture Minister and Nationalist Congress Party chief Sharad Pawar, in an exclusive interview to CNN-IBN reiterated that he is not going to contest the next Lok Sabha elections. Even as the Congress is hopeful that the Food Security Ordinance will be passed in the monsoon session of Parliament without any amendments, Pawar said that he is open to changes in the bill. However, he clarified that he didn't oppose the Food Security Bill.
He downplayed talk of a third front led government and said he would not stand in the way of a separate Vidharba if people want it. When asked about Narendra Modi emerging as a possible prime ministerial candidate, the NCP chief was of the opinion that in coalition politics very few partners, political parties will support the Bharatiya Janata Party this time with this leadership and that the age of the single party rule is over. Excerpts:
On early election following Food Security Ordinance:
I don't think that government is thinking of early elections. In my own assessment, the elections will be sometime in April 2014.

We are now seriously considering the proposal of the Food Security Act or Ordinance. Even though we have successfully produced substantial quantity of food, a sizeable section in our society is facing problems of malnutrition. So we have to overcome this issue. It does not look nice that in a country like India, which is a major exporter in granary market, a sizeable section of the population is facing malnutrition. And that is why it was a conscious decision that we have to make available foodgrains to substantial sections, weaker sections of the society at reasonable rates. That's why we have to produce and we have succeeded. Now, we have ample production, our kitty is full. So in such a situation, we would like to start other schemes, and that is why the schemes have been started.
On the urgency shown by UPA government to bring food bill:
No, it is not hurry. In the ordinance we have given six months to every state. States have to prepare a list of beneficiaries and they have to take precautionary measures for this. When we were discussing the Food Security Act there were reports in certain sections of the media that I have some different views. That was not correct. Yes, I have a different view, but my views were not against the Food Security Bill. I was insisting that we provide a more budgetary position for enhancing agriculture production, for irrigation purposes, water conservation purposes, electricity, availability of fertilizer, quality seeds. Extension services have to be strengthened. This is from the production side. And from distribution side, there is a requirement of warehouses, godowns at a lower level too. So some massive programmes have been undertaken in the last three to four years.

Practically, for the last 3.5 years we have been working in that direction. So it is not hurried. It's a conscious decision, carefully considered. We would like to take proper precautions and we have.
We are eager to start in six months. If we had followed the parliamentary route, we would have required another two months. So, July and August would have gone in discussions. After passing the bill in the Parliament, we will communicate to the state government to start preparing a list of beneficiaries among other things. I don't think that would have been possible. And that is why, just to save time, just to give more time to the state government for preparatory work this ordinance route has been accepted.
By and large everybody will support it. Yesterday, I attended the all-party meeting -- the BJP said they have no objection but they gave the example of Chhattisgarh. They said that the Chhattisgarh bill has certain important things and we would like to discuss. If any state has done a good job, and if that is beneficial for the rest of the country, why not go with an open mind? An ordinance has been submitted and will be discussed, but if there are better suggestions, we are not going to take a view that this is coming from the opposition. Ultimately, it is the responsibility of the entire parliamentary community to look after the vulnerable sections of the society. Just because of the ordinance, I don't think all parties should come and stamp it. We are still open to discussions.
On Vidarbha remaining the land of farmer suicide and the separate statehood demand:
I am for the state, for the unity of the state. But I am also of the firm view that if a sizeable section of the society, particularly from the region, wants a separate state and that separate state will be a viable state, then I will not come in their way.
On replicating the Gujarat growth model in agriculture sector:
I don't know. I have not gone into depth about this. I heard that statement. I read that statement. Different views have also been expressed by somebody. If Gujarat has become self-sufficient, why are they depending on the national kitty? So, till today, Gujarat is also expecting support from the Government of India, from the national kitty. But there are certain areas -- take the case of cotton -- where Gujarat has done well. Gujarat farmers are always known to be better producers of cotton. They have accepted GM cotton practically 100 per cent. They have improved the productivity of groundnut and that is definitely useful for edible oil. It is not just about Gujarat. It happened in Maharashtra also. Maharashtra is depending for wheat and rice on the national kitty, but it is producing maximum sugar. Maharshtra is producing good quantity of cotton. Maharashtra is producing good quantity of pulses. So every state has some plus points and some minus points.
On Narendra Modi being projected as the prime ministerial candidate:
That I cannot say. I can understand that there is a possibility that anybody from any state can be projected as the prime ministerial candidate, and in such a case he or his party does get some benefit. Every state has a different situation. Every party has some base in certain states, not throughout India. The important thing is that one has to accept that once upon a time the Congress was ruling this country for years together. The single party concept is losing. The people of India are not accepting the single party rule now. They want the concept of coalition. They want respective political parties to work together on a minimum agreed programme and provide stability. The people of India prefer respective leadership and party from respective states. The days when Smt Indira Gandhi or Jawaharlal Nehru were accepted across the nation are gone. So in such a situation, if the coalition government is inevitable, there has to be a leadership, which is acceptable to a sizeable number of other parties. And from that angle it is difficult to say if the BJP will get that kind of support from various cross sections.
On Modi becoming prime minister in a coalition government:
In coalition politics very few partners, political parties will support the BJP this time with this leadership. Take the case of Nitish Kumar. For a few years he was their partner but he has gone away. And there are parties like the Trinamool Congress and Biju Janata Dal. Ultimately, their leadership and their colleagues have to take their own decision. But if you see the origin of this leadership, it's from the Congress. They are not from the RSS or BJP. Mamataji is a product of the Congress movement. I myself, the NCP, is a product of the Congress movement. So, we have a certain sort of thinking. And most of the parties, either they are of Ram Manohar Lohia's thinking, or they are influence by Babasaheb Ambedkar, or they have accepted Jawaharlal Nehru and Indira Gandhi's thinking. The other side is the thinking of Golwalkar guruji and others. So, from that angle if you assess and if you come to the conclusion, my own assessment is, very few parties will ultimately go with the BJP
On the Third Front:
As of today, I don't see the possibility of a Third Front. Ultimately, if we are to form a government here, either it will be a Congress-led government or Congress-supported government. During the leadership of (Atal Bihari) Vajpayee comfort levels of other political parties, regional parties were much, much better. And that is why a sizeable section in the political arena accepted Vajpayee as a leader and he could provide a stable government for five years. I don't see the Third Front concept has any potential this time.
On himself becoming a PM candidate:
I am not going to contest the Lok Sabha elections. Secondly, I know mu limitation. A person, who is expecting to become prime minister, should at least get 40 MPs from his party. My party is not going to contest in such numbers. So we are not expecting anything that is unrealistic. In such situation, my desire will be that there has to be stable government, there has to be progressive government.

On farmer suicides:
It is not a question of farmers -- from where are the figures collected? The figures are collected from the bureau of crime. 16 per cent of the numbers are related to the agrarian sector when the population of the country that depends on agriculture is 56 to 60 per cent. As for the reason for suicides, it has been communicated to us by the respective state governments that the percentage because of agrarian reasons is very minimum. They have given a number of other reasons. In fact, this question will be discussed in Parliament on Tuesday. But still, even a single person, if he is taking that extreme step, if he is finishing his life, it is a serious matter. And if we have to resolve such an issue, we have to invest more on irrigation; we have to provide better prices. And when there is a little hike in the prices of agriculture products, I think sections other than agriculture should try to accept the overall situation.
If on one out of the 365 days of the year, there is a problem of vegetables or onions, the media starts making noises. But one should see why it is happening. Mainly, sometimes there is damage because of rains or lack of rainfall.
This year, for instance, onion prices have gone up. And the reason is that the major producing centres of onion were facing severe drought. Onion growers have hired water tankers and brought water from 30 and 40 kilometre away. So their cost has gone up. This reflects in the prices. So my suggestion is that if the farmers' genuine difficulty is understood and proper prices are given, the rate of suicides will definitely come down.
On a good monsoon this season:
You see it is true that we are quite worried about this growth rate because whether anybody accepts or not, the UPA government has succeeded to keep eight to nine per cent growth rate. And that was practically the second highest in the world. Five per cent is not bad but our requirement is about at least eight per cent.

Last year, the monsoon was not very favourable. There were some states where there was a drought. In certain areas crops were damaged because of excessive rain. But this year, by and large throughout India, (barring some exceptions in the northeast) the rain situation is extremely good.
I try to collect weekly reports of the sowing operation, which are very impressive. For instance, this year up to July 26 the total area which is under sowing was 747 lakh hectares. As against that same day, last year it was 680 lakh hectares. And that is because of good monsoons. The farmers are happy; they are enthusiastic. We have successfully supplied seeds, fertilizer and mainly agriculture credits. For instance, in 2004, the total agriculture credit that we had given to the farming community was Rs 86,000 crore. This year, our target is Rs 7 lakh crore. And last year we had reached Rs 6,30,000 crore. So the major requirements of the farming community has reached the states and from the states to districts and the districts to the village level at the appropriate time. That is why I am expecting a bumper crop this year. In fact, in the last two to three years, we are continuously producing more than 250 million tones, which is much more than the country's requirement and because of the excessive production we have started exporting also. I feel proud about one thing that India has become the largest exporter of rice in the world; we are Number 1. Similarly, a few years back we were importing cotton. Today, we are the second largest exporter of cotton in the world. The same is the case for wheat, vegetables, fruits and a number of other items. The continuous, steady, proactive and positive approach, which UPA government has adopted, has started paying dividends. And this year being a good monsoon, I am sure the situation will substantially improve and that it will give boost to the reviving economy.
On concerns regarding GM crop:
India is not the only country where we are thinking of GM food. As I said a few years back, India was a major importer of cotton. We have accepted Bt cotton. 92 per cent area of the cotton in this country is under Bt. The government has not propagated it but the farming community has accepted it. That's why we have not only become self sufficient, but have also become exporters also. In India, only cotton has been the crop where GM has been allowed. Those who are raising concerns and those saying that there has to be a proper machinery to evaluate these products are right. The Supreme Court is also saying that you appoint proper machinery. Yes, but if proper machinery is appointed, they have to go and conduct tests. For the tests you have to take trials. Without trials, how can they test? So opposing trials is extremely sad. If something goes wrong it will affect the environment, the soil, the water, other crop, human beings and animals. Yes, we have to take corrective action or we have to stop. But there are many countries in the world that are taking advantage of this and they have successfully improved their productivity.