Home > News > Inflation and You


'Vegetable prices have soared'

K Anurag in Guwahati | March 12, 2007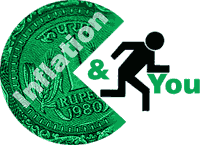 Even as India puts up an impressive economic performance that is the toast of the world, let us not lose sight of the fact that there is another index that is slowly creeping up as well -- cost of living, commonly known as inflation.
In the face of weekly bald statistics that say inflation is going up, rediff.com decided to find out from ordinary people across the country how their lives have been affected by the price rise. The sixth part of the series:
Earlier: 'We cannot stop buying' | 'Life has never been so bad' | 'We cannot afford vegetables' | 'My quality of life has fallen' | 'Cost of education worries me'
Of late, there have been regular reports in newspapers and television channels about rising rate of inflation in the country. An average Indian on the street may not understand the exact meaning of the term 'inflation', but he/she is bound to feel the pinch of it and rising cost of living is the immediate spin off of an inflationary trend in the economy.
The common people reeling under rising prices of commodities of daily use or consumption are groping for ways to cut down expenditure on non-essential heads like travelling, eating out, fuel consumption, entertainment etc.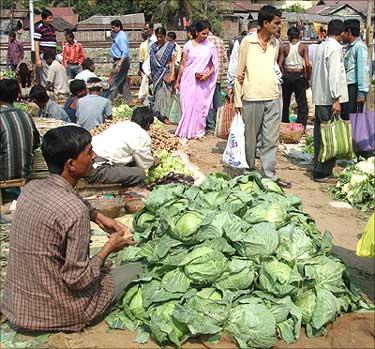 "Usually, vegetables are sold at reasonable prices at this time of the year because of abundant availability. Unfortunately, it is not so this time. See I am buying green peas at Rs 20 per kg while it was Rs 10 per kg at this time last year. Tomatoes are being sold at Rs 24 per kg as against last year's average price of Rs 12 per kg," said Mintu Bora, a 35-year-old businessman in Guwahati.
"The steep rise in price of onions has affected my family's monthly expenditure budget. The prices of the commodity soared from Rs 10 to Rs 30 per kg within a very short span of time. We have seen TV news bulletins informing that government's decision to export onions to Pakistan and Bangladesh in a year that saw less production was responsible of the steep rise in onion prices. Hope the government will review its decision to provide succour to its own people," said Anamika Choudhury, a state government employee in Guwahati.
Not only vegetables, prices of essential commodities like rice, edible oil, pulses, wheat have increased of late triggering escalation of prices of other commodities like red meat, chicken, egg adding to the cost of living of the people.
The rising cost trend in daily expenditure to run one's family, has forced people to explore options to cut down expenditure on different heads. "I have been regularly taking out my family once a week to dine in one of those new restaurants and eateries mushrooming in the outskirts of the city. But, now I am thinking of making it a fortnightly affair instead of a weekly one. Can't help it, things have become costlier than last year," said Bhaskar Duarah, a company executive based in Guwahati.
"The best possible entertainment I can afford for my small family to take them out for a movie in the city cinemas at least two nights a month though the prices of tickets were raised to the range of Rs 50-70 recently. But given the latest inflationary trend in the market of essential commodities, I have decided to cut down on number of movie-outings for my family. My wife will be hurt, but life has to go on," said 28-year-old Abani Bora, an employee in a city-based private company.
Of course, life has to go on for the common people under any circumstances and people are trying to cope with the rising cost of living. Some blame the government's policy for the inflation while some say they have no clue to what has led to increase in prices, but hopes the government would be able to take care of it sooner than later.
Photograph: Ranjan Sarma
How has the rise in prices affected your life? Send us your story and photograph here.