Home > News > Inflation and You


'Cost of education worries me'

A Ganesh Nadar | March 06, 2007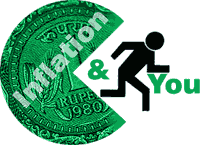 Even as India puts up an impressive economic performance that is the toast of the world, let us not lose sight of the fact that there is another index that is slowly creeping up as well -- cost of living, commonly known as inflation.
In the face of weekly bald statistics that say inflation is going up, rediff.com decided to find out from ordinary people across the country how their lives have been affected by the price rise. The fifth part of the series:
Earlier: 'We cannot stop buying' | 'Life has never been so bad' | 'We cannot afford vegetables' | 'My quality of life has fallen'
Name: K R Anup
Occupation: Security officer
Location: Tuticorin, Tamil Nadu
K R Anup is a graduate in commerce from Calicut University and an MBA from the National Institute of Personal Management, Kolkata. His first job was with the Central Reserve Police as a sub-inspector. He was also an assistant commander in the elite National Security Guard. After that, he worked for Tata Motors and Gharda Chemicals. For the last five years he is working as associate manager-security in Sterlite Copper, Tuticorin, Tamil Nadu.
Switching from a government job to a private job never made him feel less secure. "You are secure as long as you work hard. Private or government does not matter," he says.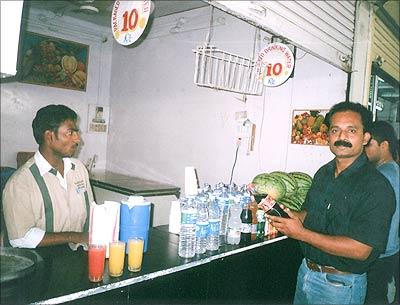 The 37-year-old Anup is married with two boys. His elder son is in standard five and the younger is in LKG. His wife is a homemaker.
He says that vegetable prices have risen the most in recent times. "In a few months it has doubled. The other day I went to the market. Green peas were selling for Rs 50 a kilo. I had to buy a quarter kilo, but I bought only 100 grams."
He also finds that school fees in Tuticorin are very high. For his elder son he pays Rs 1,000 fees a month and Rs 500 for transportation. For the younger son he pays fees of Rs 450 a month and Rs 250 for a van. He knows that every year fees will rise. He sends his children to English medium schools, as his job might take him to a different state in future.
As mutton is selling for more than Rs 140 a kilo he has stopped buying it. "We are very fond of fish. I buy the best possible fish at the cheapest possible price. I cannot afford the best fish in the market, otherwise I will have to spend Rs 100 only on fish for one meal."
He says that medical expenses are his biggest problem now. Medicine prices have gone through the roof. Due to lack of infrastructure in the local government hospital, private hospitals are charging huge amounts. "Medicare is a fixed amount that you can use only if you are hospitalised for more than a day, for cold, cough or fever you cannot get hospitalised."
He has a car and bike as autorickshaws in Tuticorin do not use their meter. They demand Rs 40 or Rs 50 even for 2 kms. Every month he spends Rs 1,400 for petrol. Six months back he had to sell his old Bajaj scooter as it was not giving him enough mileage and had to spend Rs 28,000 for a more fuel-efficient second hand Bajaj bike.
He spends Rs 350 on electricity every month. Last year it was around Rs 250 a month. He says his total telephone bills have gone up as apart from a landline at home, he has a mobile now.
He avoids air travel as he finds the fares too high. When asked about apex fares he said "It's a joke, I cannot buy a ticket a year in advance just because it's cheap."
Insurance premiums take up a part of his salary. He also has taken a housing loan for a house that he is building. Even the monthly installment that he pays has gone up since he is on a floating rate of interest, and the rates have been increasing.
Building material costs have gone up. Six months back he had to pay Rs 1,500 for a truck load of sand. Today he has to pay Rs 6,000. His planned budget had gone up by 30 per cent in eight months. He doesn't know what will happen by the time he finishes building his house.
He used to smoke for the last 17 years. A friend's heart attack made him stop. "That saved me Rs 400 a month and future medical bills," he says.
He says, "My biggest worry is that the cost of education will go up in the coming years".
Photograph: A Ganesh Nadar
How has the rise in prices affected your life? Send us your story and photograph here.