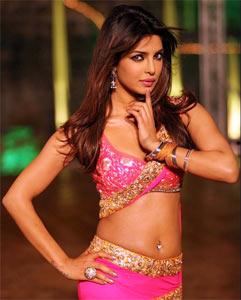 Apoorva Lakhia's Zanjeer has got a mixed response from the Censor Board.

While its Hindi version has got a 'UA' certificate, its Telugu version has received an 'A' certificate even though both versions are nearly identical.

This is to say that the same film with near-identical content is suited to an audience comprising parents and children in Hindi but only suited for adults in Telugu.

How does one explain this incongruity?

Says a source, "We have nearly the same content in both the Telugu and Hindi. The scenes are occasionally shifted around but the content is essentially the same, except for an additional song. Yet the censor board wanted 52 cuts in Telugu if it was to be granted a 'UA' certificate."

The cuts demanded in the Telugu version of Zanjeer (called Toofan) included close-ups of Priyanka Chopra and Kavita Kaushik's belly in the songs Pinky and Shakeela Bano, respectively.

When we asked a friend of the lead actor Ram Charan Teja about it, the friend sounded unperturbed and said, "Ram is not bothered at all. All his four Telugu releases so far have got 'A' certificates. The trend is upheld in his Hindi debut as well."