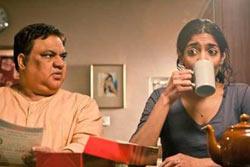 Indian-British filmmaker Amit Gupta speaks to Aseem Chhabra about combing his love for food and cinema.

Food and families are such a big part of the ethos of being an Indian. It is surprising that there have not been many lively films based on this theme.

Indian-British filmmaker Amit Gupta has come up with a perfect recipe -- a film called Jadoo, about two brothers, both chefs, who have a falling out and start to run rival Indian restaurants in Leicester.

Staring Harish Patel and Kulwinder Ghir as the brothers, the film is a sumptuous delight where food becomes the grounds for the break-up and then a source of healing.

The film also stars Sri Lankan-British actress Amara Karan (The Darjeeling Limited) and Madhur Jaffrey.

Jadoo had its world premiere at the Berlin International Film Festival, where it was presented in the Culinary Cinema Film and Food section. The film's screening was followed by an Indian cuisine-inspired dinner with the menu designed by Berlin-based Michelin-star chef Tim Raue.

Gupta spoke to Aseem Chhabra at the premiere.

Everyone had warned me not to see the film if I was hungry, and I actually did long for Indian food while watching it. I have seen a couple of British-Indian food related films -- Chicken Tikka Masala and Nina's Heavenly Delights, but none of them had the right energy. I am curious why the idea of food and Indian culture has not been explored so much.

I am aware of them, but I haven't seen them.

It's a good question, and I don't know the answer to it. My solution was to make a film about it. I love Indian food. I grew up above an Indian restaurant. My family had a restaurant for 36 years. This was in Leicester. The first restaurant you see in the film -- the exterior of it is my mum's restaurant.

It is still your mother's restaurant?

She retired just when we finished shooting. She kept it open during the shoot so that we could go and eat there.

What was it like growing up on top of a restaurant?

We lived on the top and then around the corner. It was fantastic. I could have anything I wanted to eat. In our house we didn't have much of a kitchen because 30 yards away was the restaurant. I would do my homework in the restaurant. I would sit by the window and see people go past.

If I had not become a filmmaker, I would have become a chef.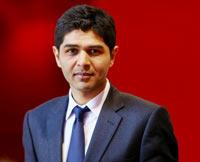 Did you put your favourite dishes in the film?

I did.

What's the fascination in the film with a perfect Alu Gobi? It is such a basic Indian dish.

I love it with rice or a chapatti. I actually love it on a bagel. You have to make it dry. And it complements the bagel's sweetness. It goes very, very well. It's my go-to-dish and I can make that one.

You didn't want to make films about arranged marriages and other concerns of the Indian Diaspora?

I absolutely did not want to make that film. You
may find this strange, but I think my film is very political.
What I really want to say is that you have normal Indian people, in a British context and we are just watching their everyday lives.
It's not making a point that they are outsiders or Indians or anything else. I wanted it to be a definite step forward.
The nice thing that has happened is that after a screening Indian people walk up to me and said they found it refreshing.
I didn't want the film to be about the same old thing. I am not dismissing those films, but it's just that we have moved on.
What about the story of brothers fighting -- that seems common in the Indian community, right?
I have an older brother and people in England will never understand this, but I have never raised my voice to him. If I did, I don't know what would happen.
There is that level of respect you have for your older siblings.
But I grew up in the Indian areas in England. I've seen a lot of brothers fall out. It's really sad because families are so important, but the smallest things can set off the biggest chain of events.
I wanted to base the film on my experience. My experience was growing up on that street in the film, with Indian food.
Both Harish Patel and Kulwinder Ghir are great as is your supporting cast. I found it interesting how everyone in the film is excited about Madhur Jaffrey. I guess in New York we are used to seeing her. But in Britain she must have a different aura, because of her television show.
Absolutely. Her television show and cook books were huge in England. In the film she is playing the part of Madhur Jaffrey. But she's different from that person. It's really interesting to be playing a persona of yourself.
She ate at my mother's restaurant all the time.
What is the state of Indian films out of Britain? We have not seen many lately.
I don't know how to answer that. I don't know many Asian filmmakers.
One problem is that it only takes one film that has an Asian theme to do badly, to make people worried about funding more. So, if you have a
Bend It Like Beckham
, then you might get a bunch of projects that can financed.
They made
All In Good Times
last year, which is the film adaptation of (
Ayub Khan Din's) Rafta Rafta
. It came in theatres and it went very quickly.
I believe West Is West didn't do too well. So, in making Jadoo were you conscious about the lull in Asian films in the UK?
I was just trying to tell a story. I wanted to make a family movie that was warm and felt as real as possible to me. I wanted to make a film that makes people hungry and make them smile a little bit.
I didn't want to make something that felt out of date. Because the food movies I love are very simple, such as
Big Night
or
Eat Drink Man Woman.
There was a little bit of Big Night in Jadoo.
Yeah, but I don't mind that. It's impossible to make a family and food movie without bringing in
Big Night.
If you get to the point where you have talked your way into becoming a movie director, you should at least love cinema. And all of these films are like a back catalogue to refer to.