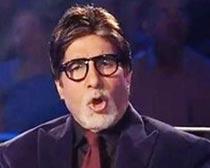 Raja Sen seems quite unimpressed with first episode of Kaun Banega Crorepati Season 5. Post YOUR reviews here!

We first saw Amitabh Bachchan usher the country to the collective hotseat back in the year 2000, and not much has changed after 11 years as the superstar continues to effortlessly pour on the charm.

There isn't much we haven't seen before in Kaun Banega Crorepati, and the first episode of season 5 seemed, while perfectly adequate, a little stale.

It's incredible what difference language makes. Upholstered in something as loud as a North Delhi sofa, Bachchan looked cringeworthy till he started speaking, that immaculate Hindi automatically and instantly restoring his dignity. He called a nervous young Sikh as his first guest, made small-talk as usual, making the contestant comfortable while explaining the differences in this season's format.
The only effective difference is a 45-second timer for each question, one that, due to its ominous ticking, Bachchan calls TickTicki-jee, which, in Bengali, makes it sound like he's addressing a lizard, just with curious reverence.
The surreality of the name aside, it's highly unlikely that this will catch on like the phrases -- "computerji", "lock kar diya jaaye" -- that took the nation by storm. In fact, the nation that used to clear up its streets at 9 every night is unlikely to respond as strongly anymore.
So it's Bachchan as usual, here. The questions, thankfully, are trickier this time around, hard enough to keep most armchair-quizzers on their toes. There's some more banter as contestants get to randomly faff with their favourite celebrities on the phone, a concept that needs serious thought, as evidenced when last night's first participant was connected to Yuvraj Singh, currently out in England. The freshly-whipped cricketer gamely spoke to Bachchan but the young man had no idea what to say to Yuvraj, and vice versa, making for some very stilted dead air. ("What's up?" "Ah, what's up with you?")
All in all, you know what to expect. Bachchan paid tribute to the late great Shammi Kapoor, and there was a brief tricoloured dance performance to mark Independence Day, but the show stays just as it was. Watch it if you care.
Rediff Rating: