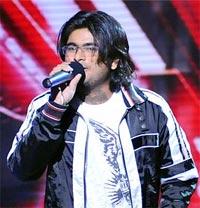 Lucknow lad Piyush Kapoor is the latest contestant to get eliminated from the music reality show X-Factor. Sanjay Leela Bhansali expressed his disappointment when Sonu Nigam voted against his own protege Piyush.

Piyush says elimination doesn't affect him. "I don't give much importance to it. I am happy with what I have achieved. Now people know me, they like my kind of singing and they want to know more about me. This was evident on Facebook," he says.

He says he holds no grudge against his mentor for voting against him. "I guess it was a completely fair decision because Amit Jadhav was better in the face-off. I was honoured and touched when Sanjay sir supported me. But I felt a little awkward when Sonuji, came and apologised to me after the elimination."

He says most of the contestants were crying, and he had to console them!
He gives Sonu Nigam, his mentor on the show, full marks for his understanding of music. "Sonuji understands the genres and every style of music. The most important thing is the confidence that he built up in me. The one thing that I got to learn from him is that one must know every kind of music."
His best and most memorable performance, he says, was "when I sang Inteha Ho Gayi and I got a standing ovation for it. Sanjay Leela Bhansali said it was the best performance on the show."
Piyush says he will go back to his band that performs heavy rock. "I will continue my struggle to become one of the most successful singers in the country. Right now I want to cash in on my popularity and come out with my kind of album."
Piyush's plan to do a tour of Mumbai before he headed back to Lucknow was torpedoed by the bomb blasts last week, but "I will come back to Mumbai after my 12th standard exams. I will do a long distance course and do something related to music in Mumbai," he promises.