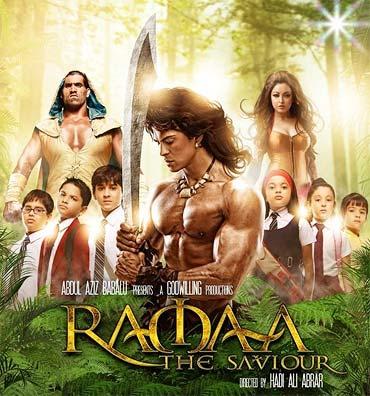 Wrestler Khali may be having a ball of a time in Bigg Boss but the producer of the movie Ramaa -- The Saviour, Abdul Aziz Bablu is having a nightmare.
The reason? Khali is stuck in Bigg Boss when he should be promoting the movie, which releases on Friday. The movie also stars Tanushree Dutta and Sahil Khan.
Khali plays a pivotal role in the film. He had informed the producer that he would be in India for Bigg Boss as well as to promote the movie.
"Last month, I had gone to Houston, USA, where I met Khali and his wife over dinner," Bablu says. "He said that he would be coming to India to be a part of Bigg Boss and that he will stay for two or three weeks. He promised that he will come out of the house by November 5 so that he could promote the movie. It's been almost a month since he entered the house and there is no sign of him coming out."
Bablu also mentioned that he had paid the entire amount in advance to Khali. "We signed a contract where I had to pay him Rs 60 lakh for the promotion," he says.
As per the contract, Khali is required to promote the film a week before its release. "I had informed him that the film will release on November 12. He is the most crucial character in the movie and looking at his fan following, it is crucial for him to give the movie a good start."
Bablu now plans to take the matter to court. "I will take the matter to court if Khali doesn't promote my movie till Thursday."
The movie has been in the making from a long time and has been stuck as it did not have any distributors. "I was planning to release the movie last Diwali but Sahil Khan conned me."
He further added, "I had full faith in Sahil and he even made me meet Rishi Jain, the owner of Avitel Post Studios. Rishi instantly agreed to buy my film and gave me a cheque of Rs 6 crore. The cheque kept bouncing so I decided to take the matter in my own hands and released it under my banner God Willing Entertainment."
Ramaa -- The Saviour is an adventure film about six children who participate in a dance competition. They try to defeat each other but the competition results in a tie. To break the tie, these children become the first to play a newly launched video game which takes them to a beautiful island where they run into trouble.