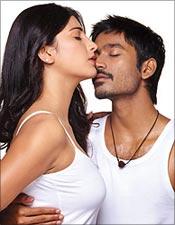 Just before Kamal Haasan flew out of Chennai to Los Angeles to supervise the sound-mixing for his new film Vishwaroop last week, Dhanush arranged a special screening of his much-awaited Tamil film 3.

It was important for Dhanush for Haasan to watch the film, not only because it is a crucial release for Haasan's daughter Shruti, but also because Dhanush wanted tips on improving the quality of the product.

Haasan's suggestions will now be incorporated in the Hindi version of 3 when it releases in May.

Apparently, Dhanush -- who has been working hard on the Hindi dubbing of 3 at Yash Raj studio in Mumbai -- might decide to get his voice done by a dubbing artiste. Kamal has reportedly advised Dhanush to do away with the South Indian flavour for the Hindi version of 3.

Interestingly, Dhanush's iconic father-in-law Rajinikanth and Dhanush's wife Aishwarya, who directed the film, were absent during the screening for Haasan. Even more interesting is the fact that this is Shruti's first film that Kamal Haasan has viewed in totality.

Speaking emotionally from LA, Haasan could barely hold back his exuberance. "I was supposed to fly out to LA for unavoidable post-production work. Mr Dhanush was kind and generous enough to arrange a special screening for me in Chennai. It  was just me, Mr Dhanush, and my daughter in the theatre. We didn't have the comfort of a crowd in the auditorium to buffer our real emotions. I felt emotionally naked. I've never been a demonstrative father but when I saw my daughter's performance in 3, I knew my little girl had finally come into her own as an actress."
During the interval, Dhanush stepped out of the theatre to give father and daughter some alone time.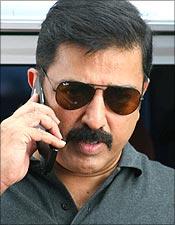 "It was most considerate of Mr Dhanush," Haasan adds. "He quietly left the theatre. For the first time in her career, I hugged my daughter after watching her performance. Besides her performance, what really thrilled me to bits is that Shruti looks like me in the film. So far everyone thinks she only looks like her mother (actress Sarika)."
Dhanush adds: "Kamal Sir saw our film. He isn't someone who says too much. But from his reactions I think he liked our film. 3 is a performance-oriented film and I was nervous that one of the finest actors was watching it. I believed in Shruti's performance. I knew Kamal sir would be a proud dad, so I gave them space and left them alone like any sensitive outsider would have done."