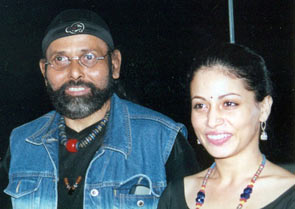 Renowned photographer Jagdish Mali, father of actress Antara Mali, passed away this morning at Nanavati hospital in Mumbai.
The photographer was diagnosed with a liver ailment in 1998 but was said to be better recently.
"He was not keeping well for some time. He had liver and intestinal problem as well," sources close to the actor told PTI.
Mali, who started his career in the 1980s, had worked with most of the big names in Bollywood like Rekha, Shabana Azmi, Kareena Kapoor, Anupam Kher, Om Puri, Irrfan Khan and others.
In January this year, Mali was reportedly spotted walking in a 'disoriented' state in a city suburb but he later rubbished reports saying he was not suffering from any mental problem and was perfectly fine.
Small time actress Mink Brar, who was a participant in the recently concluded reality show Bigg Boss, had reportedly spotted him roaming in an awkward condition in the suburban Andheri.
She had then contacted Mali's actress daughter Antara for help.

In picture Jagdish Mali with his daughter Antara
Photograph by Pradeep Bandekar