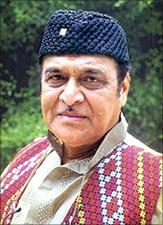 Witnessing the mad rush of fans who've been pouring in to pay their last respects to Dr Bhupen Hazarika, Assam government in consultation with the family members of the late maestro, has deferred the cremation till Wednesday early morning instead of this afternoon.
Lakhs of people from all over the region have thronged the historic Judges' Field here since last night to catch one last glimpse of their beloved Bhupen Hazarika whose body has been kept inside a specially designed transparent coffin for the people to pay their tributes.
Meanwhile, Dr Hazarika's son Tez Hazarika has arrived from New York to perform the last rites of his illustrious father, who died on November 5 in Mumbai at the age of 86.
The last rites will be performed at the campus of Gauhati University , where Dr Hazarika taught political science for a brief period during 1940s. The government has shifted the venue of cremation from the Bank of Brahmaputra River to Gauhati University campus under public pressure especially after the varsity authority announced to provide 62
acres of land within its campus for setting up of a study centre and archive of creation of Dr Bhupen Hazarika.
Meanwhile, life has come to a grinding halt as the entire state grieves after losing a talented singer, composer, lyricist, litterateur, and filmmaker. All state government organizations, banks and financial institutions, educational institutions , business establishments, markets even fuel stations remain closed for the day.
People in different parts of the city have set up huge decorated portraits of the iconic singer as his songs blare out of speakers in the background. Prayers have been organized in various parts of the state and will continue till the body is consigned to flames tomorrow morning.
Scores of fans and admirers of the late musician paid tear-soaked tributes while his body was being carried in a flower bedecked truck from Guwahati airport to his residence at Nizarapar in the city.