Rupee falls, yet Sept best month in a year
Subhadip Sircar
in Mumbai
The rupee fell on Monday on caution ahead of the current account deficit data, but still posted its biggest monthly gain in a year helped by the Reserve Bank of India's measures to attract more capital and the US Federal Reserve's decision to continue with its bond purchases.
After trading hours, the government said the June-quarter current account deficit widened to $21.8 billion from $18.1 billion in the previous quarter.
Economists, however, expect the current account deficit to shrink in the coming quarters, helped by a dramatic slowdown in gold imports and a rebound in merchandise exports.
"The markets are waiting for the current account deficit numbers.
"Anything between 4-4.5 per cent of GDP would be positive for the rupee.
"However, the near-term outlook looks bearish on the impasse over the US debt ceiling," said Navin Raghuvanshi, associate vice president at Development Credit Bank, ahead of the release of the data.
The partially convertible rupee closed at 62.60/61 per dollar compared with 62.51/52 on Friday. It moved in a range of 62.5025 to 63.03 during the session.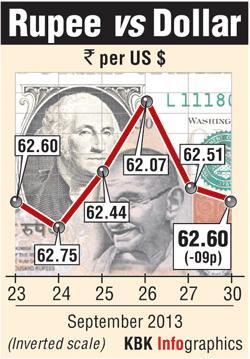 For the month, the rupee gained 5 per cent, snapping a four-month losing streak and marking its biggest monthly gain since September 2012.
The rupee benefited this month after the RBI provided two concessional swap facilities to banks to attract funds from overseas Indians as well as raise capital themselves, although it gave up some ground after the central bank surprised with a repo rate hike on September 20.
The Fed's surprise decision to continue its monetary stimulus also helped emerging assets such as the rupee gain.
However, the rupee fell 4.5 per cent in July-September, a period during which it hit a series of new lows roiled by concerns about the domestic economy at a time when the United States had been widely expected to start buying fewer bonds.
In the offshore non-deliverable forwards, the one-month contract was at 63.25 while the three-month was at 64.38.
In the currency futures market, the most-traded near-month dollar/rupee contracts on the National Stock Exchange, the MCX-SX and the United Stock Exchange all closed at around 63.23 with a total traded volume of $1.96 billion.
Image:
A girl with her face painted in colours of the Indian national flag.
Photographs:
Reuters