The current global financial crisis dominated the India Economic Summit's (IES) pre-event conference. The three-day event, being organised jointly by the World Economic Forum (WEF) and Confederation of Indian Industry (CII) from Saturday, would make its debut in this city after 26 years. The summit, an annual event, is usually held in New Delhi.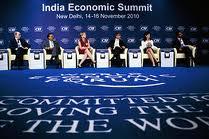 Announcing the event, Maharashtra chief minister Prithviraj Chavan said India was able to withstand the 2008 crisis due to a robust banking sector and the central government's stimulus package.

"I expect India will be able to face the crisis effectively because of a large domestic market," he said.

With states entering or seeking to enter an era of accelerated industrial growth and socio-economic development, vibrancy in the economy was needed, he noted.

Sushant Rao, senior director and head of Asia at the WEF, said the recent meeting of G-20 government had discussed a slew of options to tackle the ongoing financial crisis. More global leaders would discuss multiple ways, in the coming meet, to address the impact.

"Coming to Mumbai
this year is symbolic of bringing the discussions from the Centre to the states. States in India play a critical role in shaping the success of the national economic agenda, and coming to India's commercial capital of Mumbai was logical," he said.
This year's summit will showcase the compelling opportunities India has to offer in these turbulent economic times, as well as the actions of companies and civil leaders to make sure the next phase of growth was equitable.
The theme of the summit is 'Linking leadership with livelihood'. "Leaders from the industry, politics and other sectors would deliberate on how inclusive and equitable growth could be achieved," said Chandrajit Banerjee, director-general, Confederation of Indian Industry.
Around 800 participants from 40 countries would participate in the event, including central ministers Anand Sharma, Kapil Sibal, Sachin Pilot and Planning Commission deputy chairman Montek Singh Ahluwalia.
Three chief ministers - Maharashtra, Kerala and Andhra Pradesh - would showcase their respective states and Bharatiya Janata Party head Nitin Gadkari is also to speak.
Apart from diverse industry heads, such as Mukesh Ambani, Adi Godrej and N Chandrasekaran.