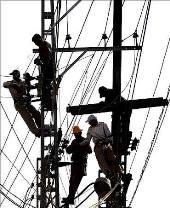 While Tamil Nadu is celebrating Karthikai, the Tamil month of lights, the state's power situation is turning from bad to worse.

This capital city is witnessing around two hours of daily power cut, while the outskirts as well and rural parts are reeling under outages of up to 16 hours a day.

The state government said the crisis would end by the second half of 2013 as new capacities would become operational.

At present, the power shortage is 4,000 Mw.

Worse, the deteriorating power situation has taken a toll on the sales of consumer durables.

Cooking has become a daily challenge for housewives, especially for those outside Chennai.

As there is no power, usage of a mixer-grinder is out of the question.

H Vasanthakumar, founder of Vasanth and Co, a multi-brand consumer electronics retail chain, says sales of consumer electronics such as air conditioners, washing machines and refrigerators are on a fall now, due to the power shortage.

"In rural areas, power cut is almost for 12 hours a day. People have money, but what will you do with a refrigerator if you don't have power most of the time?

"There is a fall of around 20 per cent across these products," Vasanthakumar says.

B A Srinivasa, chief executive officer of Vivek Ltd, another multi-brand consumer electronics retailer, also said there was a decline in sales of consumer electronics.

On an average, there is around 10-15 per cent contraction in the sales of refrigerators and washing machines across the brands.

Some products are continuing the growth, though at a slower pace.

Impact on industries

While big companies are not bothered much about the power situation, the small firms are hit hard.

For instance, units in the engineering hub, Coimbatore, often referred to as Manchester of India, facing 16 hours power cut a day, impacting 30,000 small scale units, have seen a loss of Rs 150 crore (Rs 1.5 billion)
a day, according to J James, president of Tamil Nadu Association of Cottage and Micro Enterprises Association.
"We are facing 14 hours power cut. Hardly we are able to work for four hours in a day," says James.
During good times, there were around 50,000 units and in the last one year around 5,500 units were closed and lakhs of people lost their jobs, he adds.
El Forge Ltd recently told BSE that the company's Hosur factory had declared lay-off for the first shift starting at 6.00 am to 2.00 pm for a period of three weeks due to the non-availability of power.
Similarly, the leather industry in Vellore district, which accounts for almost 30 per cent of the country's $5 billion leather industry, has been sinking due to the continuous power crisis in the state.
The leather units in Vellore are forced to suspend operations and around 2,000 people have moved from this industry, said M Rafeeque Ahmed, chairman of Council for Leather Exports and president of the Federation of Indian Export Organisations.
Government's Action
Now, several power projects are in various stages of completion. New projects will start functioning one by one.
Chief Minister J Jayalalithaa accused the previous government of not launching any major power projects, neglecting the long-term interests of the state.
The chief minister has also taken the Central government to the Supreme Court, seeking a part of the excess power the Centre has.
She has also announced sops for industries in Coimbatore, including slashing the value-added tax on gen sets to five per cent from 14.5 per cent.
Further, Tamil Nadu Industrial Investment Corp will reduce margin money on loans for gensets to 10 per cent from 20 per cent and also extended VAT exemption on furnace oil from October 1, 2012 (with retrospective effect) to May 31, 2013 which would lead to loss of around Rs 97 crore (Rs 970 million) to the exchequer.