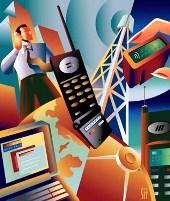 The one-man committee that went into allocation of spectrum from 2001 to 2009 has come down heavily on the controversial first-come, first-serve policy in entertaining applications and has sought complete transparency in spectrum allocation and assignment.
In its 143-page report, the committee headed by retired Justice Shivraj Patil, has also said there is a need for a comprehensive new legislation for the telecom sector like in other countries.
The legislation on the lines of 'Radio Communications Act' like in Australia and New Zealand should have objectives relating to spectrum management including setting up of an independent level spectrum authority, promting competition and maximising release of spectrum
to society.
"Whenever a contract is to be awarded or a licence is to be granted, there must obe objectivity in the procedures for selection.
"It must be in tune with the requirements of law, statutory norms and prevailing policies of the government.
"Such procedures must also be reasonable, fair, transparent and certain. The selection of applicants must be by choice and not by chance," the committee said.
FCFS basis is not justified when there are several applicants, there is competition and the resource is scarce.
Merely on the basis that an applicant approached earlier by itself cannot be the basis for selection, it added.