The radio industry is stuck in a vicious circle. The new policy could help break out of it.
Is the radio industry stuck in some kind of time warp?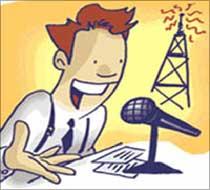 At the first conference of the Association of Radio Operators of India last week, there was the usual whining about royalty costs, the inability to own more than one station in the same city or broadcast news, among other things.
But what is really bugging big and small operators alike, is the delay in announcing the new radio policy.
A fairly liberal draft policy was presented to the government by the Telecom Regulatory Authority of India early in 2008. The government has accepted many of its recommendations, including allowing non-political news (traffic, weather, sports updates) and pushing the FDI (foreign direct investment) limit to 26 per cent (from 20 per cent). Yet the policy remains just a document.
Linked to it is the enthusiasm of radio operators to bid for 800-odd stations due to come up for auctioning in phase three of private radio's expansion in India. Currently, there are 248 private radio stations operating in India, along with the state-owned All India Radio.
According to one estimate, the industry clocked advertising revenues of Rs 1,000-odd crore (Rs 10 billion) in 2008. Radio is one of the fastest growing and most organised parts of the estimated $16.7 billion media and entertainment industry in India. What is not clear, however, is how it could become profitable.
Most operators are keen on bidding for more stations because scaling up is a critical part of their strategy to hit profitability. But bidding will bring forth a fresh round of the same old problems.
For instance, royalty costs. These form the biggest component of operating costs. Since royalty is calculated for every hour of music played, typically small-town stations end with as much as 40-60 per cent of revenues as royalty costs.
In big cities such as Chennai, Mumbai or Delhi, playing the same number of songs costs as little as 7 per cent of revenues. This is because the total radio advertising revenue in each of these cities is about Rs 100 crore (Rs 1 billion) or more. So, the operation becomes profitable fast.
However a bulk of the new stations coming up for bidding are in category D towns (the others being A+, A, B and C). So, the potential advertising revenues for radio would be low, say Rs 50 lakh-Rs 1.5 crore (Rs 5-15 million) in a town. For an operator to make money in these towns, a low-cost operation is critical. And for that to happen, royalty costs have to go down.
Radio operators are already in a war-like situation with the music industry over this issue. The Supreme Court has referred the matter to the Copyright Board, which is due to have its next hearing next month.
Add several other issues that affect the industry's ability to make money - some of its own making and others policy-related. Currently, radio operators are not allowed to own more than one station per city.
That makes it impossible to milk more from large cities by offering a bouquet of stations with different programming. You could argue that operators could do a potpourri of programming on one station, a la, Doordarshan of the old days, but they don't.
In fact, most harp about the fact that news is not yet allowed on radio. However, no one has a clear answer on what they would do once it is allowed. News is a high cost operation.
If royalty costs are already 'killing' the industry as operators scream, then news costs would finish the job. "Whether we invest in news or not, we must have the option to programme our stations the way we want to," says one operator.
Fair enough. And that brings us back to square one - the new radio policy - which tackles most of these issues. Till that is announced, phase three of radio's privatisation will remain a non-starter.
Meanwhile, radio continues to remain a fast-growing business stuck in a surreal time warp.