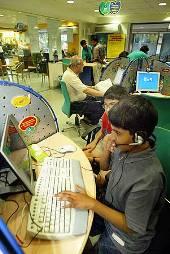 The Indian video games industry -- minuscule compared to the evolved western markets -- is poised to grow 49 per cent to touch $830 million by 2012, when the country's overall animation market will scale $1 billion, says a report of software industry body National Association of Software and Services Companies.
According to the 2008-09 report of the IT-BPO industry body, the Indian animation industry was worth $494 million in 2008.
Globally, it will grow to a size of $100 billion at an annual growth rate of 10 per cent by 2012.
The country's gaming industry was worth $167 million in 2008.
At the global level it is poised for an annual growth rate of 10.5 per cent to reach $53.6 billion by 2012 from $21 billion in 2008, the report added.
"Now, India doesn't have to depend on outsourced projects. In fact, domestic demand pressure is constantly increasing and a dearth of skilled animators is felt at times," Maya Academy of Advance Cinematics EDM Rahul Ebrol said.
He said the demand for computer gaming animation, in addition to animation alone, is increasing rapidly, which indicates that a large number of expert computer animators will be needed very soon.
According to Ebrol the Indian gaming and animation industry has flourished despite the global downturn. There was neither much effect of the slowdown on this industry nor cases of job cuts, he added.
"In this context I can cite the example of a video game 'Call of Duty', which shattered the records of the movie Harry Potter in the first few days of its release.
"This game earned $550 million in five days itself," Ebrol said.
The present scenario suggests that there are golden days ahead for this industry and India will become a center for original animation films, in addition to being one for outsourcing, he said.
India can be a large global market for Panchtantra and other such legends, he added.