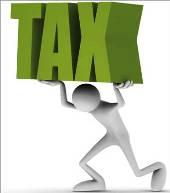 The ongoing agitation by Income Tax officials has affected search and seizure operations of the department.

This may delay the revenue collection of Central Board of Direct Taxes.

Search and seizures contributes to almost one-tenth of the revenues collected by the CBDT annually. I-T officers form 75 per cent of the search and seizure wing.

The rest are officers from the Indian Revenue Service segment.

The agitation, which is on for the last one month across India, is to protest against the poor treatment meted out to the income-tax officers -- the officers who do not come under the Union Public Service Commission cadre -- and the officers who joined through the Indian Revenue Service cadre.

According to the Income-Tax Gazetted Officers' Association, the officers have been denied promotions for the last two to three years.

"Other than the difference being meted to us, the CBDT has made no attempt to even fill the vacancies in the lower cadre, which is just adding to the work," said Santosh Kadampat, general secretary, Mumbai unit of the association.

The officers have been on agitation since 31 January and will continue with their agitation till their demands are met, said Rajesh Menon, secretary general of the association.

"We are currently not submitting any reports and are also
not participating in any search and seizures," said Menon.
An official of the I-T department said: "As of now, search and seizures are going on.
"But officers who do the bulk of work are not participating.
"It is only the employees upto the inspector level and officers from the IRS segment who are participating in this."
M P Singh, chief commissioner of income-tax, Mumbai, said: "The agitation will not have a huge impact on tax collections, but it will be felt only to some extent."
Currently, 8,500 officers are on strike all over India out of which 1,000 officers are on strike in Mumbai, which has the highest collections of tax in the country.
The officers went on strike in October also, but were then given in writing by M C Joshi, the then Chairman of CBDT, that promotions will be rolled out by 20 January.But when that did not happen, the agitation was renewed.
Last year CBDT had collected Rs 4.46 lakh crore (Rs 4.46 trillion).
Many of the officers complain that the officers who are under the IRS receive promotions easily, but in the lower rung officers are the one who have to wait for years till they get a promotion.
"An officer who joins through IRS is promoted to Assistant Commissoner level within seven years, but income tax officers who do not come under IRS become get promotions only after 12-13 years," said a source on condition of anonymity.