The new steel policy, likely to be announced in a month, is expected to iron out issues related to foreign direct investments, land acquisitions and environment clearances.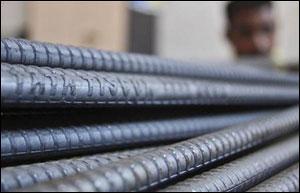 The draft of the new policy, seen as a stimulus measure, has been circulated for final comments and it would be announced soon, a senior steel ministry official told Business Standard.
The sector is in the midst of a slowdown due to severe raw material crunch and a halt in commissioning of new projects. The policy is expected to have solutions to problems plaguing the sector - the recent ban on iron ore mining in Karnataka, Odisha and Goa, land acquisition problems and delays in getting environment clearances. The ban on iron ore mining has forced steel companies to import raw material, increasing costs.
Steel projects - including those of ArcelorMittal and Posco - could not take off because of such issues. In a meeting with Commerce Minister Anand Sharma, South Korea's Minister of Knowledge Economy Sukwoo Hong had last week raised the issue of delays in Posco project clearance, emphasising the importance of the project for enhancing economic ties between the two countries.
The new policy would make sure that such problems did not crop up or were addressed quickly, the steel ministry official said. "It will also help us in increasing capital inflow into the country." The official said the government may consider setting up plants along coastal regions to make it easier for companies to import raw material using port infrastructure.
Ernst and Young India's metals and mining practice leader Anjani Agrawal said, "There is enough interest among foreign companies to come and set up steel plants in India. We need to tap that quickly and facilitate setting up of businesses on the ground, as there is enough demand domestically and it will increase in the coming years. India is a land of opportunity for global steel firms."
India, the fourth largest steel producer, plans to increase production capacity to 200 million tonnes by 2020 from 90 million tonnes now.