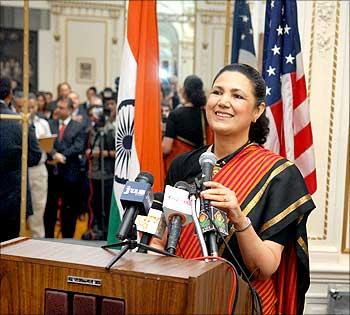 Amidst growing concern that India and the United States are on a collision course over reduction of carbon emissions in the run-up to the climate change conference in Copenhagen later this year, India's Ambassador to the US, Meera Shankar said that for a country like India with a severe energy shortage, absolute reductions of emissions is extremely challenging and well nigh impossible.
On the possibility of a change in India's stand going into Copenhagen, the envoy said on Monday that "India treats the issue of climate change very seriously. We have adopted a national action plan with regard to climate change, which has both mitigation aspect as well as aspects for adaptation."
"For India, what we would have a problem with is to look at ways to deal with climate change which would in a sense deny us the rights to development -- that is really the crux of the dilemma that we face," she added.
"We would like to develop in a way that is environmentally sustainable, but it's not an easy choice: how do you do that with limited resources?" she asked.
Shankar noted that "we are also in a position today where our energy consumption levels are very low," and pointed out that 400 million people in India, "particularly in rural India are without access to commercial energy."
"So, you are looking at this energy scenario where India has to grow its energy basket anywhere from between five to seven times in the next 20 years."
She also had an interaction with the media following her address to the Atlantic Council in Washington on 'India and the United States: The Next Phase' on Monday.
When the envoy was asked about the Office of the US Trade Representative complaining about India's tax and tariff regime, its lack of adequate international property rights protections, and investment barriers, Shankar said: "This has to be a two-way process," and argued that Indian businesses see protectionist trends in the US too.
"I would imagine that this has to be a two-way process and that barriers to trade and investment on both sides should gradually be removed to encourage two-way trade and investment," she said.
Shankar asserted that "there are equally concerns, which Indian companies have about growing protectionist trends in the United States and the use of non-tariff barriers including various standards," and countervailing duties that developing countries were being subjected to.
"This is a two-way process and we have a dialogue for it called the Trade Policy Group which we hope will contribute to this process," she reiterated.
Shankar also pointed out that "we have also begun discussions on a bilateral investment treaty, and we had one round of discussions and we hope to carry this forward."
She predicted that "once that treaty is in place, I think that would also be an important instrument for providing confidence to investors on both sides."
Image: Indian Ambassador to the United States, Meera Shankar.
Photograph: Paresh Gandhi