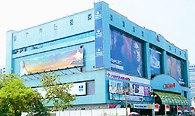 The takeover battle for Fame India further heated up with financial services provider Religare Securities on Monday hiking its stake to 5.82 per cent in the multiplex chain operator on behalf of some its clients.
Religare purchased 20.24 lakh shares, representing 5.12 per cent stake, in the company, multiplex operator Fame India said in a disclosure on the Bombay Stock Exchange. When contacted Religare's spokesperson said that the transaction is certainly not for the company but on behalf of the clients.
The disclosure, however, did not give the names of the clients. "Being a broker shares are held in the ordinary course of business towards margin on behalf of clients," the disclosure added.
Prior to the acquisition, Religare held 0.70 per cent stake in theatre chain operator Fame India. It holds 5.82 per cent stake in Fame India at present. ADA Group companies and Inox are in the race to acquire Fame India.
The ADA Group companies hold 13.79 per cent stake in Fame. Inox had entered into an agreement with the promoters of Fame to acquire their 43.28 per cent stake for Rs 66.48 crore (Rs 664.8 million) or at Rs 44/45 a share.
Within days, the ADAG companies announced an open offer to acquire 2.17 crore shares, or 52.72 per cent stake in Fame, at Rs 83.40 a share, which is at a hefty premium. Shares of Fame India were trading at Rs 85.50 on BSE, up 0.59 per cent from the previous close.