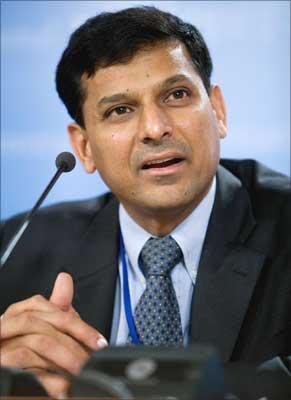 Noted economist Raghuram G Rajan has been appointed the honorary economic adviser to Prime Minister Manmohan Singh.
The appointment of Rajan, a former chief economist of the International Monetary Fund and now a professor of finance at University of Chicago, comes at a time when India, like most of the world economies, is grappling with the impact of the global credit crisis.
"Rajan will hold the rank and status of Secretary to the Government of India," a PMO release said. The Prime Minister is also assisted by an Economic Advisory Council, headed by Suresh Tendulkar.
Raghuram G. Rajan was the economic counselor and director of research at the International Monetary Fund from October 2003 till December 2006. He was the first person of Indian origin to be chosen by the International Monetary Fund as its chief economist.
Before joining the IMF, Rajan taught at the Graduate School of Business at the University of Chicago.

He has carried out research on the role of institutions, especially financial institutions, in fostering economic development. In 2003, Rajan was awarded the inaugural Fischer Black Prize by the American Finance Association for contributions to finance by an economist under 40. 


He has been a visiting professor at the Kellogg School of Management at Northwestern University, the Massachusetts Institute of Technology Economics Department and Sloan School of Management, as well as the Stockholm School of Economics. He also has worked as a consultant for the Indian Finance Ministry, World Bank, Federal Reserve Board, Swedish Parliamentary Commission, and various financial institutions.

Rajan has co-authored the book, Saving Capitalism from the Capitalists, along with fellow GSB faculty member Luigi Zingales.
After getting a bachelor's degree from the Indian Institute of Technology in Delhi in 1985 and an MBA from the Indian Institute of Management in 1987, Rajan moved to the United States where he earned a PhD from the Massachusetts Institute of Technology with a thesis entitled "Essays on Banking." He joined the GSB faculty in 1991.

Rajan enjoys squash, tennis, cricket, cooking, reading, and traveling.