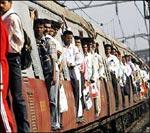 The Indian Railways is planning to encourage people to buy platform tickets using their mobile phone, much in the same manner as it now allows train reservations through the cell phone.

An SMS on your mobile giving details of the platform ticket, including the expiry time, will be accepted as a platform ticket.

This will put an end to long and serpentine queues at platform windows and will save the Railways in terms of platform paper, printing and manpower cost.

Display on trains: The Railways is also launching a pilot project to install an electronic display board and voice announcer on each coach of the Guwahati-Delhi Rajdhani in September, giving details of the next station, distance and time to reach there, and any delay in the running of the train.
After examining this pilot project for a while, Railways will install these display boards and voice announcers on all long-distance trains and connect them through GPS to provide real-time information.
Such a system in Delhi metro and the first class coaches of the Mumbai local trains has been a success. The Indian Railways thus wants to extend it to all trains to make the journey more comfortable, railway ministry sources said.