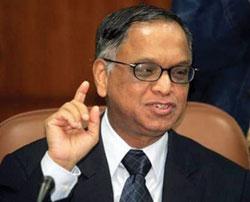 Despite making landmark advances, the Indian software industry has failed to support the growth of its own inventions, Infosys founder N R Narayana Murthy said on Saturday, asking students to reinvent their idea of education to end this anomaly.

Speaking to engineering students at the annual convocation of the Indrprastha Institute of Information Technology, Delhi, Murthy pointed out that the much famed Indian software sector ends up importing every innovation from the West despite the fact that the country produces a large number of software professionals.

He said emphasis solely on passing examination and enormous focus on rote learning rather than on learning and using fundamentals was partly to blame for this state of affairs.

"Unfortunately, almost all of the advances in the Indian software industry -- other than the Global Delivery Model and 24-hour productive day - in software engineering, quality, productivity, security, and user interface design have come from the western nations.

". . . every book, we use, has been written by people who work abroad.

"Every gadget we use and every invention that we see around us have been invented abroad. Why is it so?" asked Murthy, who founded the Indian software major in 1981 along with six friends.

Suggesting a change in the way students' approach their education, he said the idea that education ends with passing the last examination in the college should be done away with, and professionals should continue the learning process all their lives.

"Making education purposeful is a key aspect of gaining recognition for our education system. No wonder then that there is no Indian institution of higher education in the top 200 in Shanghai rankings," he said.

Murthy exhorted students to imbibe fundamentals of education as instruments to solve problems around them and continue to evolve with rapidly changing technology.

The convocation function was also attended by former Nasscom chief Kiran Karnik and IIIT-D Director Pankaj Jalote.
Image: N R Narayana Murthy