Kingfisher Airlines is exploring hiving off its engineering department into a separate maintenance, repair and overhaul (MRO) unit. This is one of several measures being considered by the airline management to tide over its current financial crisis.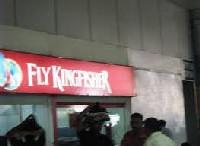 Government-owned Air India, also in severe financial losses, is also implementing such an exercise, hoping to launch its MRO in January.

Kingfisher posted a second quarter loss of Rs 469 crore (Rs 4.69 billion). Apart from interest reduction and cost savings, the airline is looking at "opportunity to unlock further value through spin offs"', according to its investor presentation, which it released yesterday. One such plan is for an MRO to service its planes.

"It is at an exploratory stage. It is just a road map," said Ravi Nedungadi, chief financial officer of the UB Group, of which Kingfisher is a part.

Creation of a separate engineering unit would benefit the airline in reducing its employee costs. Kingfisher has about 1,500 aircraft engineers and technicians who currently do maintenance on the airline's 66
planes.
Kingfisher is expecting to get benefits worth Rs 2,190 crore (Rs 21.9 billion) through debt reduction, aircraft reconfiguration, operational efficiencies and discounts from vendors.
Although there was an increase in revenue, a combination of high fuel price and interests costs led to a widening of losses in the quarter.
The management has listed various plans to achieve cost savings. It hopes to halve its debt of Rs 6,521 crore (Rs 65.21 billion) to Rs 3,722 crore (Rs 37.22 billion) through a slew of measures, such as conversion of Rs 675 crore (Rs 6.75 billion) of UB Holding debt to equity and through release of maintenance deposits held by lessors. It is expecting Rs 400 crore (Rs 4 billion) through reduced interest costs.
The airline is estimating an earning of Rs 1,395 crore (Rs 13.95 billion) following a reconfiguration of planes and is expecting discounts worth Rs 286 crore (Rs 2.86 billion) from suppliers and reduction in lease costs amounting to Rs 115 crore (Rs 1.15 billion).