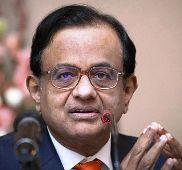 Assuring India's commitment to pursue economic reforms, Finance Minister P Chidambaram has said government will cut fiscal and current account deficits to help economy return to the 8 per cent growth path.

Speaking at a roadshow in Frankfurt on investment opportunities in India on Monday, the Minister said the economy was on the right path to achieve growth levels recorded during 2004-2008.

"I am very optimistic that India can grow at a (high) rate for the next 20 or 30 years," Chidambaram told a gathering of around 200 representatives of leading European companies, banks and other financial institutions.

India's promotion drive in Germany's financial capital to woo more European investors was hosted by Deutsche Bank and Barclays Bank.

Chidambaram had held similar meetings in Hong Kong and Singapore to woo investors.

India has been growing at an impressive rate of even 9 per cent before the global financial meltdown pulled the growth rate down to 6.7 per cent in 2008-09.

The growth in the current financial year is estimated at 5.5-5.7 per cent.

The minister further said that fiscal deficit and current deficit were the main problems facing the economy.

Outlining the measures taken by the government to reduce fiscal deficit, the Minister said under no circumstances, he would allow it to breach the 5.3 per cent of gross domestic product in the current financial year.

The government proposes to reduce fiscal deficit to 4.8 per cent in the next financial year.

Besides attending the roadshow, Chidambaram held other bilateral meetings with business leaders to promote India as an attractive destination for foreign investments.

He also had a meeting with Anshu Jain, India-born co-CEO of Deutsche Bank.
Image: P Chidambaram